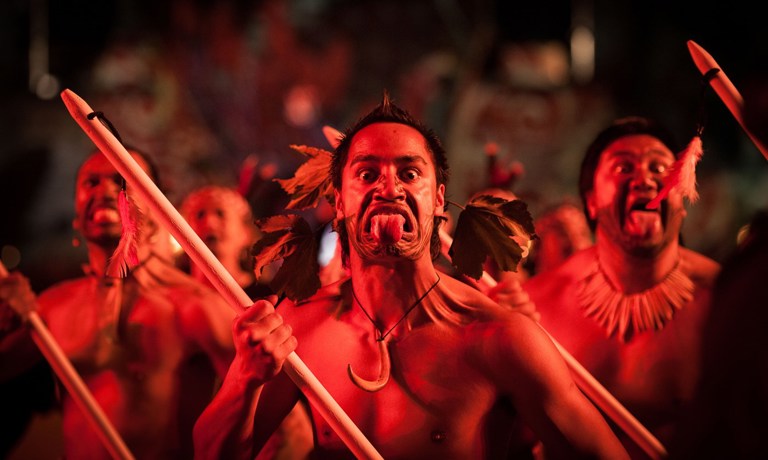 The Tattoo to return to New Zealand
The Tattoo says Kia Ora to New Zealand
It's been described as the greatest show on earth, a performance of such epic scale that it takes an army of personnel to coordinate.  And next year, for just the fourth time in its 65 year history, The Royal Edinburgh Military Tattoo will leave Scotland to perform Down Under at Wellington's Westpac Stadium on 18-21 February 2016.
The first time the Tattoo was performed outside of Scotland was in New Zealand in 2000 as part of the New Zealand Festival (formerly the New Zealand International Arts Festival), with tickets selling out in two days.  Attracting people from across New Zealand, the Tattoo delivered millions in additional revenue to the local economy. The 2016 Tattoo will also be presented by the New Zealand Festival - and a waitlist has been launched today for ticket buyers.
Prime Minister John Key welcomed the announcement made at Westpac Stadium today (11 May). 
Tattoo Chief Executive and Producer, Brigadier David Allfrey in Wellington for today's announcement said, "The Royal Edinburgh Military Tattoo is set to return to New Zealand in February 2016 for a run of performances that will be amongst the most spectacular ever staged.
"In over six and a half decades our unique event has been presented abroad on only three occasions.  So, we are delighted to be returning to the country where the first of our overseas shows was successfully staged in 2000 and audiences were so welcoming and receptive to our particular brand of entertainment.
"We are exhilarated at the prospect of bringing The Royal Edinburgh Military Tattoo to Wellington.  By any standards, to play the Westpac Stadium is an extraordinary venture and we are very much looking forward to all it entails.  We are bringing together a huge international cast and a musical score that will, I hope, be a terrific addition to the 2016 New Zealand events calendar."   
New Zealand Festival Executive Chair, Kerry Prendergast, believes the enduring success of the Tattoo is down to its epic scale, 'pomp and ceremony', and the pure entertainment of the show:  "There really is nothing else on earth like the Tattoo. Each year, when performed in the grounds of Edinburgh Castle it sells out, with 220,000 people getting the chance to see it live every year. A further 100 million people watch on TV. It's one of those once in a lifetime cultural experiences that stays with people long after they see it."
The 2016 show will take place on 18-21 February and will feature traditional Scottish favorites including the UK's best precision drill teams, pipers, fiddlers and highland dancers, but also numerous performances from both military and civilian cultural groups from countries outside of Britain.  In keeping with our commemorative events and activities around the World War I centenary, the 2016 Tattoo, will include a moment that will commemorate the spirit of the ANZACs.