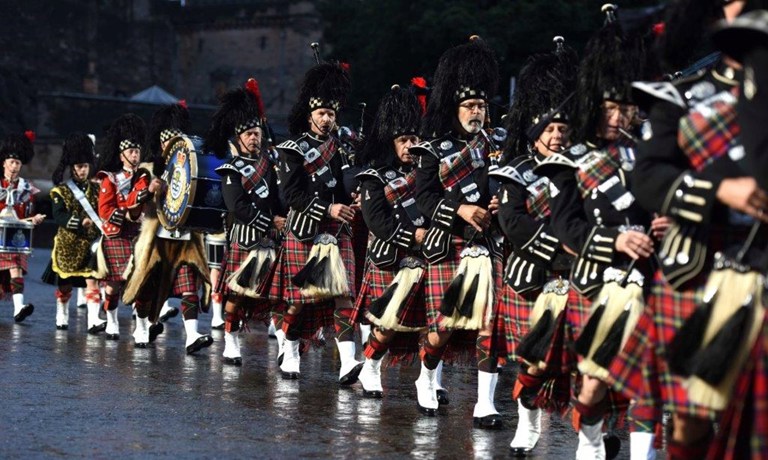 The Tattoo comes to cinemas in Canada
Scotland's August extravaganza set for exclusive viewing in Canada
The Royal Edinburgh Military Tattoo continues to spread its global footprint with news that it is working with Cineplex Events for a one-off broadcast of the BBC Scotland-produced 2017 extravaganza in Canadian theatres. On Saturday, 28 October, this year's Splash of Tartan themed showcase will be shown in 54 theatres in Canada's largest cities, including Toronto, Vancouver and Calgary.
The 105-minute screening will take the audience on a journey through every second of the live show, which returned for its 68th season at Edinburgh Castle's Esplanade this year. Cinema-goers will be able to soak up the sights and sounds from one of Scotland's most iconic stages which welcomed more than 1,200 performers this year, including 250 pipers and drummers, a first-time performance from Japan and the now infamous French Band of the 9th French Marine Infantry Brigade who performed in front of The President of the United States.
In the last ten years, more than 45,000 Canadians have travelled to Edinburgh to witness the world's most widely recognised Tattoo and 44 Canadian groups have participated in the event itself since 1950. 
Brigadier David Allfrey, Chief Executive and Producer of The Royal Edinburgh Military Tattoo, said:
"Our Edinburgh audiences have been delighted with this year's Show, and the cinema broadcast should be as entertaining and inspirational.  We are thrilled to be showcasing the Tattoo in cinemas in Canada.  This is a new and exciting venture for us.  The combination of pageantry, military precision, innovation, a great storyline, huge music -– nearly 800 musicians at peak -– world-class sound, lighting, projections, special effects and fireworks look incredible on the big screen.  I hope the cinema audiences will be transported to Edinburgh Castle and the heart of our Show.
"Our eyes, ears and hearts are easily drawn towards Canada not least as we host expert Canadian pipers, drummers, dancers and fiddlers in our cast and many friends each and every year.  We have so much in common, not just because so many Scots have chosen to make Canada their home but we also share a similar view of the world.  Over the years, we have taken the Tattoo overseas - most recently in 2016 to huge acclaim in Australia and New Zealand. We are working towards a major visit to China in 2020, with aspirations for Canada in the future too."
A recent VisitScotland report found that in the last three years Canadians have spent more than 1.4 million nights in Scotland but Canada and Scotland share deep cultural and historical ties with Scottish people having made a large impact on Canadian culture since colonial times.
Malcolm Roughead, Chief Executive for VisitScotland, said: 
"The Royal Edinburgh Military Tattoo is one of the country's signature events and a huge draw for visitors to the Capital. Staged at the city's iconic castle, it brings together thousands of people from all over the world and showcases Scotland as a world-class destination for events.
"It's great to hear that screenings of this year's performance will be taking place across Canada. Between April last year and March we saw a 19 per cent increase in trips and a 40 per cent rise in spend among those coming from North America, who are showing an ever-growing appetite for our history, culture and stunning landscapes. As we celebrate the Year of History, Heritage and Archaeology, it is hoped these screenings will encourage even more visitors from Canada to travel to Scotland and see this wonderful celebration of Scotland's heritage."
Brad LaDouceur, Vice President, Event Cinemas, Cineplex, said:
"Military tattoo is a part of Canada's rich cultural heritage and we are delighted to offer Canadians the opportunity to see the spectacular tradition that is The Royal Edinburgh Military Tattoo. What better way to experience this inspiring signature event of stirring music, dancing, pipes and drums than on a big screen."