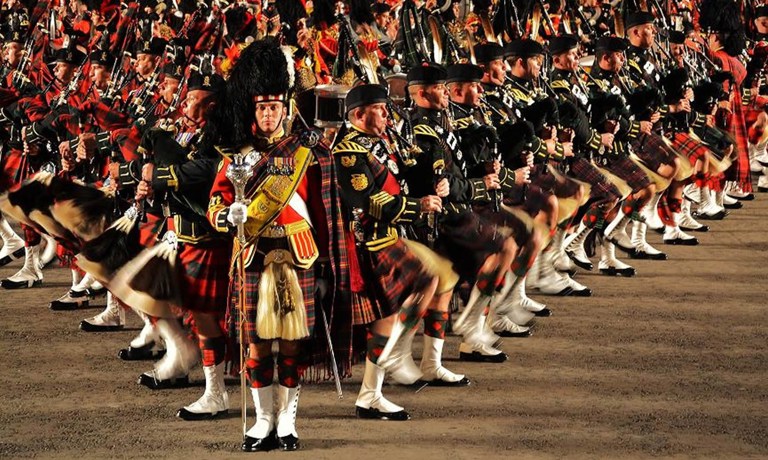 The Royal Edinburgh Military Tattoo secures international cinema deal in Australia, New Zealand and Canada
The Royal Edinburgh Military Tattoo announces a new international cinema deal with CinemaLive
Audiences in Australia, New Zealand and Canada will have the opportunity to enjoy the rich and exhilarating experience of this year's Royal Edinburgh Military Tattoo as the business announces a new deal with CinemaLive, one of the world's leading producers and distributors of premium event cinema.
The one-off broadcasts will be available to residents in the country's biggest cities including Melbourne, Sydney, Vancouver and Auckland. Canadian screenings take place on 28 October, 4 and 7 November at almost 50 cinemas across the country and then in more than 150 Southern Hemisphere cinemas on 24 and 25 November.
Audiences will get the chance to re-live this year's 'The Sky's the Limit' themed show for an extended 90-minute recording from the iconic Edinburgh Castle Esplanade stage including international performances from Malawi and Oman to the Czech Republic and the USA, as well as show-favourites, the Massed Pipes and Drums and the Tattoo Dance Company. This year's showcase took audiences on a journey through man's greatest achievements and also celebrated the RAF centenary and Scotland's Year of Young People 2018. 
The CinemaLive deal further cements the Tattoo's continued drive to secure a larger, global audience. In May, the business announced details of its ambitious global growth strategy.
Having already staged hugely popular shows in Australia and New Zealand in the last 15 years, the Tattoo aims to significantly develop its operations by securing overseas tours in China, Australia and Canada from 2019 onwards. The ambition to attract a global audience of 1 billion across multiple channels by 2025 - a tenfold increase - is a step change for the organisation whose annual Edinburgh show is hugely popular but is bound by the physical size of the Edinburgh Castle Esplanade at 8,800 seats per nightly show. 
Lynsey Fusco, Head of Marketing and Communications at The Royal Edinburgh Military Tattoo, commented: "We are constantly working to deliver innovative ways for our audiences to see the show so it's very exciting to have this deal with CinemaLive come to fruition. Our research tells us that despite ever-increasing international ticket buyers to our Edinburgh event, there is still a huge demand for the Tattoo overseas. We are listening to our audiences and taking the show to them! Cinema is a fantastic way to watch the show with impeccable sound quality and visuals giving a flavour of Edinburgh in August.
"Our ambitious growth plans outline our intention to take the Tattoo to overseas from next year and this feels like a very positive step forward for the business. We're encouraged by the response we have had from our new international partner as we enter this new era of growth for the Tattoo as a world-class brand."
CinemaLive is dedicated to delivering premium and diverse entertainment into thousands of screens worldwide, allowing fans the chance to see world-class music, theatre, opera, arts and other special live events at their local cinema.