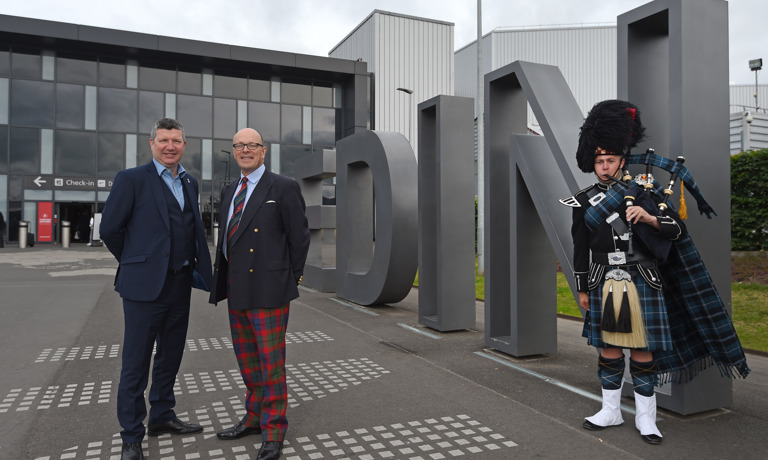 The Royal Edinburgh Military Tattoo flies high with Edinburgh Airport in new sponsorship deal
The Royal Edinburgh Military Tattoo has today announced a new six-figure sponsorship deal with Edinburgh Airport, which will support this year's 'Kaleidoscope' show at Edinburgh Castle in August.
With a shared global outlook and focus on international relations, the synergy between the brands has led to a natural partnership. The new 12-month agreement has been forged to reflect the Tattoo's global expansion ambition as it continues towards its goal of a 1 billion global audience by 2025 and Edinburgh Airport's status as Scotland's busiest airport, welcoming 12 million passengers to the capital each year.
Last year The Tattoo announced its ambitions to develop its international influence by securing overseas tours in China, Australia and Canada by 2021 and doubling its turnover to £20 million by 2025. With a renewed focus, revised structure and refreshed understanding of international appetite, it is hoped that the deal will continue to help expand awareness and interest amongst international tourists.
Commenting on the partnership, David Allfrey, Chief Executive and Producer at The Royal Edinburgh Military Tattoo said: "This supportive collaboration with Edinburgh Airport is a perfect fit for us, helping expose passengers from far and wide to the magic of the Tattoo thanks to the Airport's leading global connections.
"Each year we welcome over 100,000 international guests to The Tattoo and we're thrilled to be able to have such a prominent position from the moment they touch down in the city."
Gordon Dewar, Chief Executive at Edinburgh Airport, said: "Our partnership with this iconic brand feels like a great fit of shared values and ambition - both Edinburgh Airport and The Tattoo are striving to build connections between Edinburgh, Scotland and the rest of the world, and we're excited to bring a taste of its colour and culture to our passengers."
A world showcase event set in the heart of Edinburgh, The Royal Edinburgh Military Tattoo prides itself on delivering under the three guiding pillars of Military Entertainment, Influence and Social Contribution.  Supporting the latter, the organisation has donated over £11 million to charity and since 2016 has committed to donating at least £1 million every year going forward.