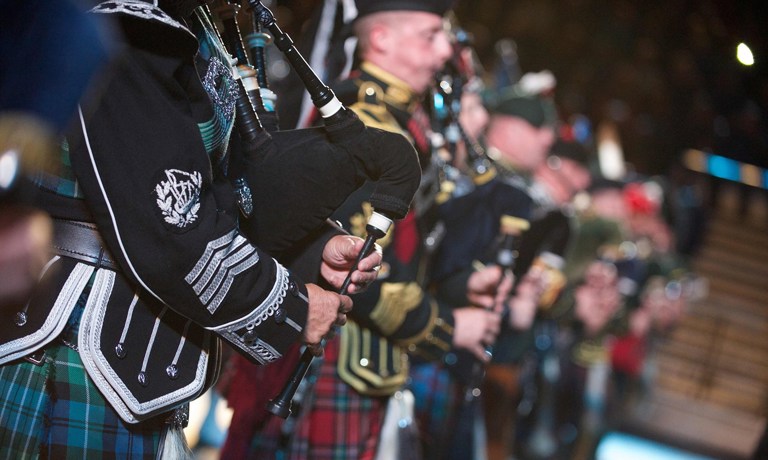 Tattoo unites with Scottish Diaspora to celebrate Splash of Tartan
The Royal Edinburgh Military Tattoo has announced a new partnership with the Scottish Diaspora.
The partnership will look to ignite renewed interest in Scotland's national fabric while at the same time reaching out to everyone with a link to Scotland: those that live in Scotland, those with a family connection, those visiting and those simply with an interest.
Taking inspiration from VisitScotland's Year of History, Heritage and Archaeology and a Royal Navy lead, organisers unveiled the 2017 theme as Splash of Tartan at the closing of the spectacle's final sell-out show in August this year. Splash of Tartan will be reinforced through a range of separate partnerships and initiatives, including a tie up with The National Museums of Scotland, The National Trust of Scotland and Historic Environments Scotland who are promoting its own emphasis on The Jacobites. 
Each year, The Royal Edinburgh Military Tattoo stages its colourful show for a live audience of 220,000 against the backdrop of Edinburgh Castle, with a TV audience reaching 300 million. The most iconic scene of the Tattoo each year is the Massed Pipes and Drums. Drawn from the Scottish Regiments and across the world, they march across the Castle Drawbridge with tartan and uniforms aplenty, pipe banners fluttering and stirring tunes to the fore.  Tattoo and Tartan are always seen together but now organisers want to go a stage further.
Clan Chiefs are being invited to lead their clansmen to the Castle, on their own special designated evenings, and to take part in the opening ceremony of the Tattoo.  In addition, clans and families are being encouraged – with some support from the Scottish Government through the Scottish Clan Event Fund: Splash of Tartan - to arrange their own family events around Scotland.  The Fund is being managed by EventScotland and applications are open until 9 January 2017. All of this will contribute to an already exciting and colourful summer for all visitors to Scotland. 
Everyone who attends the Tattoo - whether they have a clan connection or not - is invited to dress for the part; a rich mixture of tartan clothes, headgear and accoutrements of all forms.  Those looking to attend the Show without a clan or family connection are being encouraged to join in with the Clan festivities and enjoy the rich history, talismans and tartan of Scotland.
Brigadier David Allfrey, Chief Executive and Producer of The Royal Edinburgh Military Tattoo, said:  "In the coming year when Scotland's heritage and history are once again to the fore, Splash of Tartan offers a fabulous opportunity for everyone to get involved, dress the part and join in the celebration and pageantry at the Tattoo.
"We are looking to get the word out, not just across Scotland and the United Kingdom but to everyone abroad who is linked to Scotland - in whatever way - to join us in a remarkable set of celebrations in front of our great Castle at the heart of the City of Edinburgh.  Kilts, trews, sporrans, plaids, hose and bonnets are all de rigeur.
 "We hope the Tattoo will provide a perfect excuse for families to come together at the Show and further afield.  We want everyone to celebrate their links with Scotland by looking the part in August."
Malcolm Roughead, Chief Executive of VisitScotland, said: "Yet again, the Tattoo provides more than just a stage for stunning entertainment but a platform for tourism in Scotland. The 2017 Year of History Heritage and Archaeology will mark an important milestone for us all as we take a look back into our fascinating roots and explore yesteryear traditions. The ancestral market has huge potential for the Scottish economy, with millions of Scottish descendants across the globe and we hope that Splash of Tartan will ignite interest even further in this area and encourage people to explore their family roots, traditions and customs."
Sir Malcolm MacGregor of MacGregor, 24th Chief of Clan Gregor, and Chieftain of the Children of the Mist, who has been instrumental in setting up the relationship, added: "Our partnership with The Royal Edinburgh Military Tattoo has been a long-time coming; it's an excellent way to propel the fascinating history of Scotland's clan heritage to the fore, and encourage others to explore their Scottish roots, of which there are many. The Clans and Families are steeped in history, but it is within a modern context and making it relevant for today that matters. It's going to be a wonderful sight to witness people from the Highlands, Lowlands and Borders of Scotland and the world, descending on the iconic grounds of Edinburgh Castle, tartan aplenty!"
Clan members wishing to get involved with the event should contact their appropriate Clan Chief for further information. Details of Clan Chiefs can be found here: info@clanchiefs.org.uk.