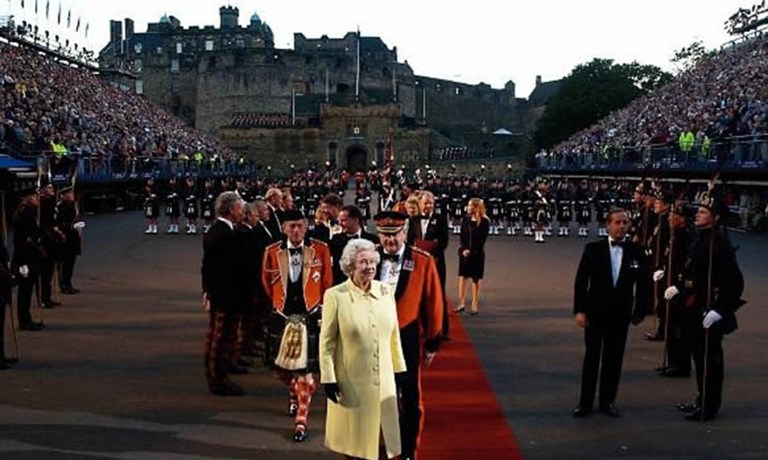 Tattoo Celebrates Jubilee
Tattoo Celebrates HM The Queen's 60th Year
Musicians from Switzerland, Norway and Australia will be among the sparkling line-up at next summer's 62nd Tattoo, which opens at Edinburgh Castle on August 3rd and runs for three weeks.
As part of next year's international celebrations marking the 60th anniversary of Her Majesty The Queen's accession to the throne, the Tattoo's Diamond Jubilee themed production is Scotland's Salute to the Monarch and is set to be one of the most impressive ever staged.
As usual, the programme will include music, action and colour with a touch of the unexpected, where traditional items will be matched by exciting new contributions to add to the Tattoo's long list of alluring attractions, which continues to grow after six decades.
With state-of-the-art production technology, including 21st century surround sound, compelling graphic installations and ultra-modern lighting, the 90-minute show – which will also celebrate the Year of Creative Scotland as a light is shone on some of this country's creative assets - is expected to dazzle a worldwide audience.
Now that new Producer Brigadier David Allfrey has delivered his first Tattoo with some élan, expectations for his 2012 offering are mounting.
He said: "We are all hugely excited at the ideas that are building in the production: great acts, great music, stunning technology, some real innovations, Edinburgh Castle of course and… all the sparkle that we expect from diamonds! The sheer accomplishments of the last 60 years allied with Scotland's inherent creativity provide an excellent framework within which we can work. The canvas is wonderfully broad and lends itself to real creativity. We are all thrilled to be involved and delighted that the Tattoo can contribute to the national celebrations in an extraordinary year."
While traditional Tattoo favourites are assured, sure-fire international crowd-pleasers such as the Top Secret Drum Corps from the Swiss city of Basel - one of the world's most sensational percussion groups - along with the finest display unit in the Norwegian Armed Forces – His Majesty The King's Guards Band and Drill Team – will together help ignite proceedings as the production pace quickens.
Also taking part will be popular pipe bands from the Southern Hemisphere. This includes Melbourne's Rats of Tobruk, a 'living memorial' to honour those who died in North Africa's 1941 Siege of Tobruk, the Australian Federal Police from Canberra, who first appeared at the Tattoo in 2009, Sydney's award-winning Scots College Pipe Band and the 30-member Manly Warringah Pipe Band from the northern beaches area of New South Wales.
And also among next August's attractions will be a 100-strong contingent of young pipers, drummers and dancers from Queen Victoria School in Dunblane who, accompanied by the Scots College, will present an animated Tweed-themed item. The Tattoo's own Highland dance troupe is then set to provide a colourful display which tells the story of Whisky, while 50 dancers from OzScot Australia help celebrate Scotland's heavy engineering pedigree.
The grand finale, featuring a prodigious cast and that international song of love and friendship Auld Lang Syne, will bring the show to a close as the Lone Piper, high on the Castle ramparts, plays a special favourite of The Queen to mark the Diamond Jubilee festivities.
Booking for the 2012 Tattoo (3-25 August) opens on Thursday, 1st December 2011. Tickets, priced £23 to £59, can be purchased from 10am (GMT) at www.edintattoo.co.uk/tickets or obtained by telephone on +44 (0)131 225 1188. Counter bookings commence on Thursday, 8th December at 10am from the Tattoo Ticket Sales Office at 32-34 Market Street in Edinburgh.