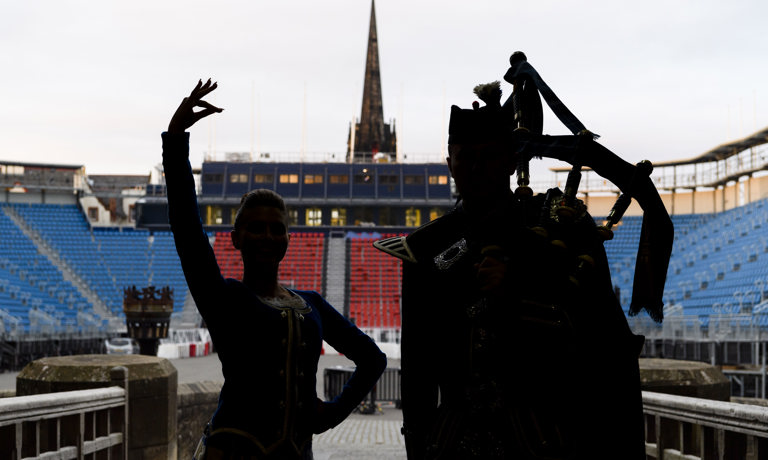 The Royal Edinburgh Military Tattoo Piper, Conner Pratt (Fife), Highland Dancer, Rosey Watt (MacDuff) and Drummer, Frazer Rankin (Dunbar), took to the Edinburgh Castle Esplanade at sunset to mark the completion of the Stand build, ready for this year's much-anticpated Tattoo performances.
After three-years The Royal Edinburgh Military Tattoo stands are back! Experience the unique venue yourself this summer for 'Voices'. Crowds will gather at Edinburgh Castle, from 5-27 August, for our cultural spectacular.
This year's Show, Voices, is a celebration of expression, giving a stage to performers and acts from around the globe to share their voices through spoken word, song, music and dance.
The Tattoo belongs to the city and to recognise this, The Royal Edinburgh Military Tattoo is giving back to people living in Edinburgh, the Lothians and Fife with a special offer of a 25% discount for the first 1000 tickets sold - only applicable to locals who use the code EH25.
Buster Howes, Chief Executive of The Royal Edinburgh Military Tattoo, said: "The Stand's construction changes the Castle skyline dramatically, marking the start of Edinburgh's summer of festivals and cultural celebrations.  After two years without its presence, its completion today has even more meaning for the people of Edinburgh as it signifies the dawn of a new era. The Tattoo is ready for its return, and we are coming back with a bang!
"We're committed to giving back to the city, the Tattoo belongs to the locals and we're celebrating with a discounted offer to give everyone the chance to see the spectacular Voices Show live. I'd encourage everyone across Edinburgh, the Lothians and Fife to make the most of this offer, the Tattoo has something for everyone, and they will be blown away with the Show".
Tickets for this year's Show 'Voices' are still available, get yours online or by phoning +44 (0) 131 225 1188.