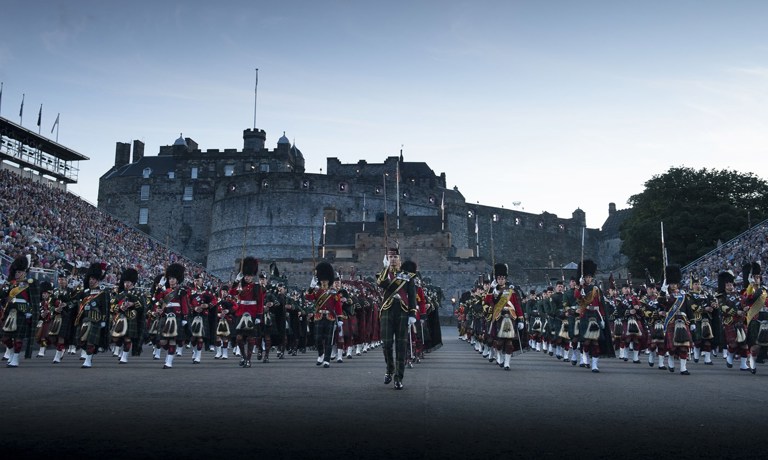 Mark Knopfler's 'Going Home' featuring in Tattoo Advert
Legendary Guitarist adds Award-winning touch to upcoming Tattoo TV Commercia
Next week the Royal Edinburgh Military Tattoo is set to launch a television advertising campaign across Scotland and the north of England featuring the music of legendary singer-songwriter Mark Knopfler.
The TV commercial, inspired to support the sale of this summer's 65th Edinburgh Tattoo (1-23 August), reveals a series of fast-moving clips from the hugely popular annual Castle Esplanade production set against the almost instantly recognisable strains of Going Home, the theme tune from the timeless 1983 film 'Local Hero'.
Royal Edinburgh Tattoo Chief Executive & Producer and former Royal Scots Dragoon Guards Commander, Brigadier David Allfrey MBE said:
"We are thrilled that Mark has generously agreed to support our Year of Homecoming activities which we hope will in turn also help further strengthen our links with Scotland as a destination and our charitable endeavours.
There is no better sound than Mark Knopfler's for that far-reaching and authentic impact."
Last night the celebrated guitarist said: "My link with the Royal Scots Dragoon Guards goes back many years and I'm delighted that 'Going Home' is to be associated with the 2014 Edinburgh Tattoo."
The 30-second commercial, embracing the song Going Home from The Pipes and Drums of The Royal Scots Dragoon Guards CD Parallel Tracks featuring Mark Knopfler, was created by West Linton-based production company EPM Production, launches on June 16th and runs until the month's end.
EPM Production's Managing Director, Kenneth Andrew remarked:
"The creative focus has been considerably enhanced by the mood and message of Mark's "Going Home" recording featuring the Royal Scots Dragoon Guards. A fitting endorsement of the main theme for this year's show.
Dr Michael Cantlay, Chairman of Scotland's national tourism agency VisitScotland, said: "We are immensely proud of the Royal Edinburgh Military Tattoo, not only because of the overwhelming contribution the event makes to Scottish tourism economically, but also the wonderful cultural buzz that it creates throughout the city during the summer. Going home is a beautiful track that symbolises all that the Tattoo and Homecoming Scotland 2014 represents – a celebration of our country, our home. We are looking forward to great success in this, the year Scotland welcomes the world."
Meanwhile, over 1,000 performers from Australia, New Zealand, South Africa, Canada and the United Kingdom are set to combine with highly sophisticated 21st century production technology for August's spectacular ' Our Home Friends and Family' themed Tattoo season at Edinburgh Castle.
Tickets for this landmark production, priced £25.00 to £62.00, are now on sale at www.edintattoo.co.uk . Telephone orders may be made on ++44 (0)131 225 1188, while counter bookings can be fulfilled at the Tattoo Ticket Sales Office at 32-34 Market Street, Edinburgh EH1 1QB.