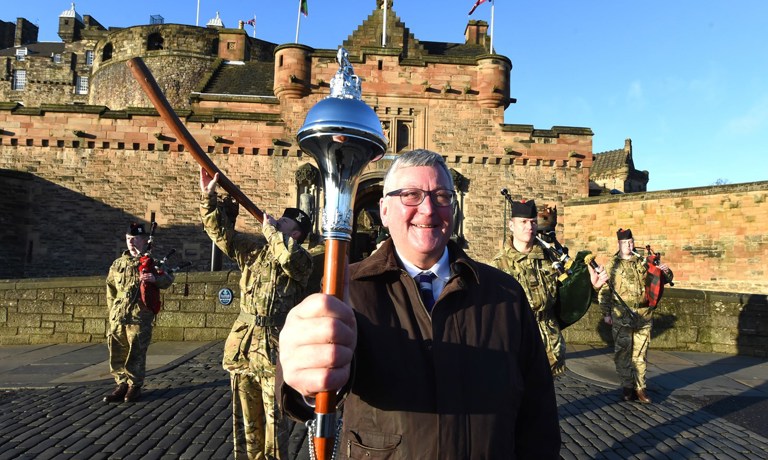 Fergus Ewing MSP Bids Farewell to the Tattoo as it heads Down Under
Scotland's Tourism Minister bids farewell to Tattoo performers bound for Australia and New Zealand
On Thursday, January 28 at the Esplanade of Edinburgh Castle, Scotland's Minister for Energy, Enterprise & Tourism, Fergus Ewing MSP, offered his best wishes to performers from the Tattoo's Scottish contingent bound for Australia and New Zealand as they put the finishing touches to their preparations for The Royal Edinburgh Military Tattoo's 'Fanfare for the Future' production at the Etihad Stadium in Melbourne from February 12-14 and Wellington's Westpac Stadium in New Zealand on February 18-21.
Tourism Minister, Fergus Ewing MSP said: "An iconic event like Edinburgh's Military Tattoo helps put Scotland on the map and I've no doubt its presence in Australia and New Zealand will act as a superb advert for our country. The ambassadorial role performed by this cherished national institution will appeal to ancestral Scots and all those with an affinity to Scotland and will serve to support the strengthening of links between our nations. It helps highlight contemporary Scotland, with our rich array of cultures, and also our heritage, which we want to share with the world."
Tattoo Producer, Brigadier David Allfrey, remarked: "This is a huge adventure! We have been three years in the planning and have received support from so many people, here in Scotland and across all the collaborating countries. Specifically, we are partnering with Scottish Enterprise, VisitScotland and the GREAT Britain Campaign to leverage the numerous benefits that the Tattoo can offer. As a routine and with every country that we engage, we are dealing with the departments of Defence, Foreign Affairs, Trade & Investment, Tourism, Culture, Heritage and the Arts. When all these disciplines work together the potential benefits are enormous. We have sold more than 258,000 tickets across the nine performances in Australia and New Zealand. I know that everyone in our host countries knows about the Tattoo on Tour and is looking forward to us arriving in a few days' time. Having heard our military musicians rehearsing under the Principal Director of Music in Portsmouth, their sound takes your breath away!"
This is only the fourth time in the Tattoo's history that the world-class event will be staged away from its home at Edinburgh Castle. In 2000, Wellington's Westpac Trust Stadium in New Zealand enjoyed this honour, while Sydney hosted the Tattoo's outstandingly successful 'A Salute to Australia' in 2005 and then, in 2010, the popular presentation entitled 'Celebrating 60 years of Valour, Mateship and Glory'.
The largest gathering of pipes & drums and military bands ever to perform overseas will be among the 300-strong British-based performers taking their unique brand of entertainment to the southern hemisphere.
The complete cast for Australia and New Zealand of more than 1200 performers will include some of the world's finest musicians from Australia, Fiji, New Zealand, Norway, Switzerland, Tonga and the United Kingdom along with 200 top-flight Highland dancers from across Australia, New Zealand and Scotland.
They will perform to 265,000 spectators over 5 performances at Melbourne's Etihad Stadium and 4 shows at Wellington's Westpac Stadium where a dramatic replica backdrop of Edinburgh Castle has been built to help capture the essential magic of the presentation that only The Royal Edinburgh Military Tattoo can create. 

And they will be joined by a further anticipated audience of over 2 million throughout Australia who will enjoy the highlights on national television.

National Tourist Board, VisitScotland's Chairman, Michael Cantlay, said: "The Royal Edinburgh Military Tattoo is a world renowned cultural extravaganza that shines a spotlight on the Scottish capital every year. Australia represents a key diaspora stronghold and a growing inbound tourism market for Scotland. These international performances by the Tattoo will provide a spectacular shop window for Scotland, featuring a fantastic array of performers and colourful displays, and hopefully it will inspire viewers to take that further step and explore the country of its origin."