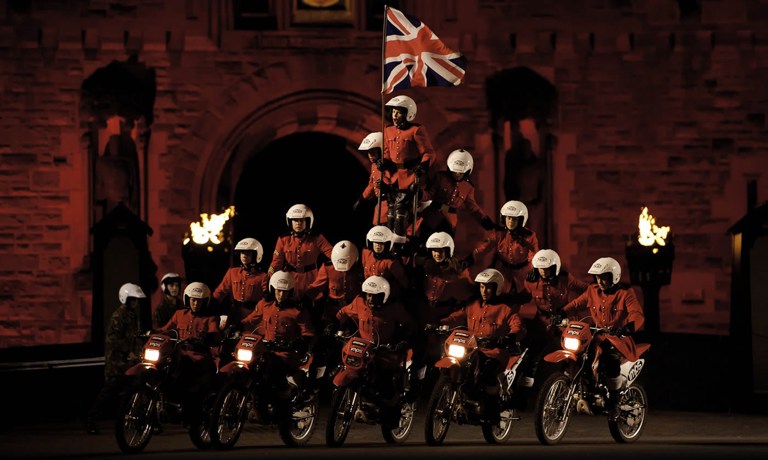 Dutch Band get on their bikes
Dutch Band get on their bikes for 2011 Tattoo
Forty of the Netherlands' finest military musicians with their celebrated Bicycle Band – Fanfarekorps Koninklijke Landmacht Bereden Wapens – resplendent in historic World War 1 period uniform are one of the more unusual elements set to grace the Esplanade of Edinburgh at next year's Royal Edinburgh Tattoo (5-27 August).
The entertaining spectacle of members of The Fanfare Band of The Royal Netherlands Army Mounted Regiments in action on their pushbikes is expected to fascinate and amaze visitors to the showpiece military event.
"2011 will see us continue to live up to our hard-earned reputation as one of the country's  most spectacular and popular annual events, delivering our unique brand of music, ceremony, theatre and dance," said Major General Euan Loudon, Tattoo Chief Executive & Producer.Another of next summer's headline acts will be the South African Navy Band from Simon's Town, whose multi-talented musicians will perform using a variety of instrumentation, which, uniquely, include Kudu (water buffalo) horns.Colourful performances from overseas give way to the inspiring music of the combined Bands of Her Majesty's Royal Marines. Together with their precision drummers, the Bands' embrace some 120 musicians from HM Royal Marines Scotland, Portsmouth and the Commando Training Centre, Lympstone.
Traditional favourites, the ever-popular Massed Pipes & Drums, will add their distinctive sight and sounds to proceedings, although with a special surprise next August.
German composer and co-writer of the popular bagpipe melody 'Highland Cathedral' – Berlin-based Michael Korb -  will perform at the event alongside a 45-strong group of pipers from Berlin, as the first German pipe band, 'The Crossed Swords', take to Edinburgh's famous Castle Esplanade.
The action-packed show also boasts performers from the Middle East and South America, and includes an exciting demonstration of contemporary Highland dancing featuring the Tattoo Dance Company and introducing a gifted all-girl troupe of dancers from Northern Ireland.Next year's show (5-27 August) takes place nightly, Monday to Friday at 9pm, with two performances on a Saturday at 7.30pm and 10.30pm. Booking opens on Wednesday, 1 December 2010. Tickets, priced £23.00 to £58.00, can be obtained from 10am (GMT) at www.edintattoo.co.uk/tickets.
Telephone orders may be made from 10am (GMT) on ++44 (0)131 225 1188 from 8 December, while counter bookings will be accepted on Wednesday 15 December 2010 at the Tattoo Tickets Sales Office, 32-34 Market Street, Edinburgh EH1 1QB.