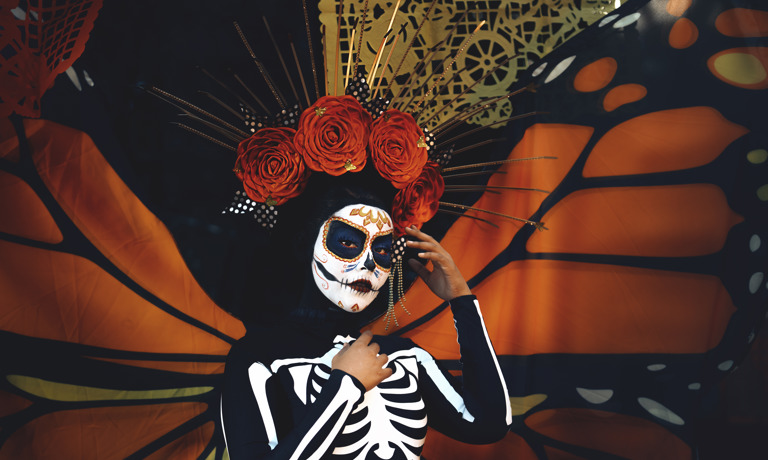 Banda Monumental De Mexico set to spread their wings in honour of The Queen's Jubilee at this year's Show
Banda Monumental de Mexico, will be taking over the iconic Edinburgh Castle Esplanade when they return with another show-stopping performance 'Mexico Celebrates Life' at our VOICES Show in August. To mark Her Majesty The Queen's Platinum Jubilee, part of their performance will be dedicated to Her Majesty and Duke of Edinburgh with a special Monarch butterfly wing costume created in her honour.
Julieta Huerta Aviles, one of the youngest dancers in Banda Monumental de Mexico, was the driving force behind the idea to include the beautiful butterfly wing costumes in this year's showcase. Her inspiration is a famous photograph taken of the late Duke of Edinburgh watching the Monarch Butterfly's migration on a trip to Mexico in 1988 - part of a trip he attended to support a Mexican conservation group whose aim was to protect the Monarch Butterfly from serious threats to the species' survival.
Julieta Huerta Aviles, performer with Banda Monumental de Mexico said: "The opportunity to share our country's music and culture with so many people at this year's Royal Edinburgh Military Tattoo is a real privilege.
"The photograph of HRH Prince Philip with the Monarch butterflies is incredibly beautiful and with it being The Queen's Platinum Jubilee this year, it felt only right that part of our performance and costume honoured both of them in a special way. I am so excited to perform at the Tattoo and I can't wait to see the costumes take centre stage."
In 2010, we were presented with the official Royal Commemoration by Her Majesty to mark our 60th anniversary and we have since been known as The Royal Edinburgh Military Tattoo. As part of this year's Jubilee celebrations, over 50 Tattoo Dancers performed at 'A Gallop Through History' which took place at Windsor Castle.
Michael Braithwaite, The Royal Edinburgh Military Tattoo Creative Director, said: "It's such a thrill to have the dynamic and exciting Banda Monumental de Mexico return to the Tattoo this year. Our audience can expect an even bigger spectacle than before, and we can't wait. 
"With the country celebrating The Queen's Platinum Jubilee this year it's wonderful to see the performers from Banda Monumental de Mexico pay tribute to both Her Majesty The Queen and Duke of Edinburgh in such a poignant way, connecting back to their Mexican roots and culture. We're excited to see the costumes dazzle in all their glory on the Esplanade." 
All performers from Banda Monumental de Mexico reside from Tehuacán, a town in the state of Puebla which is famously known as the birthplace of many of the greatest musicians in Mexico. The military band is made up of 120 members between the ages of 12 and 53. The band was formed exclusively for the 2018 Royal Edinburgh Military Tattoo by the Organizacion Cultural de Intercambios Internacionales México and saw more than 100 performers brought together proudly to share traditional Mariachi music.
This year's Tattoo theme is 'Voices' and the Show will represent the collective power and connection of voice through a spectacular combination of music, dance and military precision from some of the world's leading armed forces and cultural performers as it returns with a bang this August 5-27.