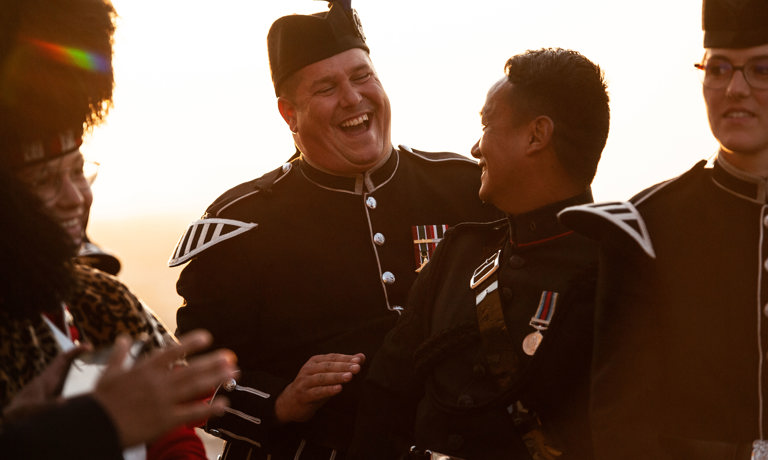 The Royal Edinburgh Military Tattoo begins anniversary celebrations with 'random' giveaways for locals
To celebrate Random Acts of Kindness Day (17th February), The Royal Edinburgh Military Tattoo team are hitting the streets of the Capital on today to pass out Tattoo-inspired gifts, as proceedings for the event's 70th-year anniversary celebrations begin.
Lucky passers-by will get the chance to pick up one of 70 Tattoo items including rugby balls, teddies, sweets, and pairs of tickets for the 2020 Platinum show which takes place at Edinburgh Castle between 7-29 August. Several gifts will also go out via the Tattoo's social channels and fans and locals are being encouraged to keep an avid eye for posts throughout the day.
The Tattoo team will begin their journey at its head office on Cockburn Street before passing through some of Edinburgh's best-loved streets.
Random Acts of Kindness Day is a globally celebrated 24-hours which encourages people to pass on small tokens of appreciation to strangers, celebrating the art of kindness.
Brigadier David Allfrey MBE, Chief Executive and Producer at The Royal Edinburgh Military Tattoo, said: "This year we celebrate our biggest birthday (70 years!) and what better way to re-pay the people of Edinburgh, our most loyal guests, than to gift them tokens of our appreciation. Amongst the treasure will be our 'golden tickets' which will open the drawbridge to our Platinum showcase: another spectacle including the most impressive, talented and ambitious performers from all around the world."
This year, the Tattoo celebrates its 70th birthday under the theme 'Platinum', the precious metal which marks the longstanding anniversary date. As well as drawing homegrown talent including fan-favourites the Tattoo Dance Company, Pipers Trail and Hjaltibonhoga, the event will welcome a cast of international performers of more than 1,200 – all to be revealed closer to August.
Terms:
Social media submissions after 4pm GMT on 17 February will not be counted and winners will be selected at random. Facebook, Instagram and Twitter are not affiliated with this giveaway.