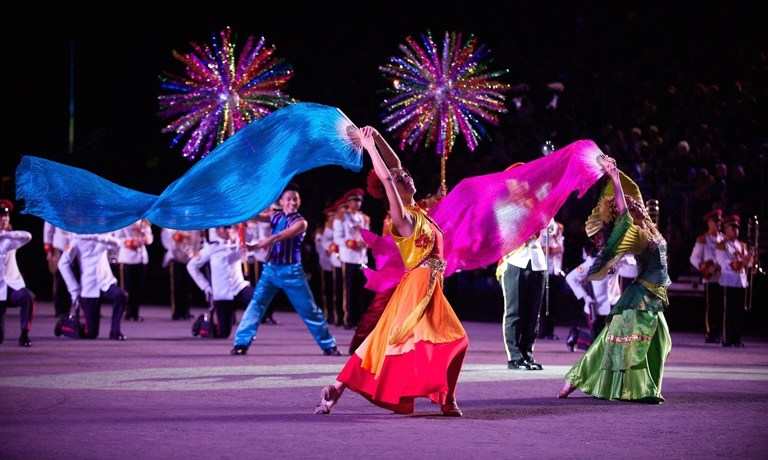 £4M worth of tickets for 2015 Tattoo already sold
Tattoo sell £4M worth of tickets in hours of going on sale
Close on half of the 220,000 tickets available for next year's 25-performance run of the Royal Edinburgh Military Tattoo (7-29 August) have been snapped up in a matter of hours of the 2015 event going on sale yesterday.
Tickets for the annual RBS-sponsored summer spectacle went on sale at 10am yesterday morning as Tattoo Chief Executive & Producer, Brigadier David Allfrey, preparing for his fifth occasion at the production controls, and his Market Street Team gear up for next summer.
He said: "It has been an extraordinary few hours!  The wonderful team at Market Street, our ticketing contractors, our travel partners and customers have all contributed to a sparkling start to the Tattoo's 66th season.  It is phenomenal when our tickets go on sale and within minutes we have high demand across the world.  This year, to add to the mix, we are trying to touch new markets and hope very much to encourage an increase in Chinese and Indian visitors.  The plans for the Show are coming together nicely and we have lots of treats in store."
100,000 tickets for the 3-week military showpiece on the Castle Esplanade have now been sold bringing in some £4.2 million in box office receipts.  A particularly promising start to the countdown to the 2015 Tattoo.  
With close to 1,200 performers from 5 continents, the Tattoo is looking forward to celebrating a colourful 'East Meets West' theme with one of the largest multi-national and multi-cultural casts ever assembled on the Castle Esplanade.