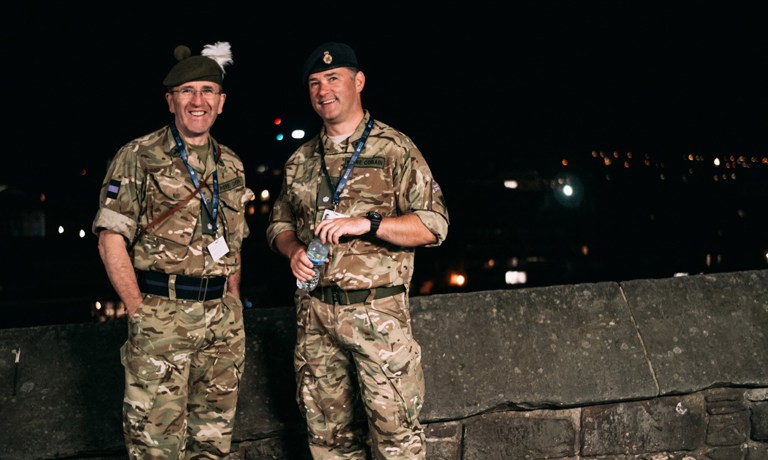 £1 million Donated to UK Beneficiaries
Tattoo Donates £1 million to UK Charities
Following its nineteenth consecutive sell-out year, The Royal Edinburgh Military Tattoo has announced today it will donate £1M to UK-based charitable organisations this year, bringing the total donated by the military spectacle since 1950 to over £10M.
The 2017 donations will be split between seventeen major Arts or Armed Forces organisations and is the largest sum of money ever donated by the Tattoo to UK-based organisations in its history.
The Tattoo will contribute £725,000 to eleven Armed Services beneficiaries, including: ABF - The Soldiers' Charity, The RAF Benevolent Fund, The Royal Navy and Royal Marines Charity, Scottish National War Memorial, Seafarers UK, Combat Stress, Royal Commonwealth Ex-Services League, the Army Piping Committee and a number of Service personnel welfare funds.
This year, investment in arts-specific funds has increased with six organisations set to receive a slice of a £275,000 pot, including Creative Scotland and the City of Edinburgh Culture Project Fund, who will oversee two new arts funds
Creative Scotland will receive £150,000 to create a piping, drumming, fiddle and Highland dance fund, encouraging affinities with Scotland's traditional music scene. The Royal Edinburgh Military Tattoo Talent Development Fund will launch in mid-October to tie in to Scotland's Year of Young People in 2018.
The City of Edinburgh Council Culture Project Fund will receive £50,000. The first phase was launched in January to support the city's new Culture Plan, adopted by the Council last year. The plan was developed with input from creative industries, funding bodies, festivals, performers, artists, producers and venues and highlighted a need for greater support of emerging artists and 'a shared city-wide agenda' for culture. The Tattoo donation will fund the second phase development of new performing arts work in Edinburgh that demonstrates a local or citywide importance and develops partnerships working within the city's cultural sector. 
Further details will be published when the Fund opens for applications on Friday, 6 October.
Peter Lederer CBE, Chairman of the Tattoo Board of Trustees said:  "We are hugely proud of the impact these donations make across a range of Armed Forces and Arts charities.  It is testimony to our team and the success of the Tattoo that we are able to consistently deliver a world-renowned Show and ensure a surplus each year for important causes."
Brigadier David Allfrey MBE, Chief Executive and Producer of The Royal Edinburgh Military Tattoo, said: "As we reflect over another phenomenally successful Tattoo season, we are able to come back and focus on our core purpose.  The Royal Edinburgh Military Tattoo has proudly been a charitable organisation supporting Armed Services charities and the Arts since 1950, donating over £10 million over the years.
We are hugely excited that this is the second year in which we are able to pledge donations of £1 million and for the first time focusing solely on United Kingdom beneficiaries.  For us this is a major milestone and underpins our determination to make an ever greater contribution, while growing the Tattoo's impact and value both in Edinburgh and further afield."
Robert Robson, Chief Executive of the Royal Navy and Royal Marines Charity, said "For The Royal Edinburgh Military Tattoo to have given £1 million in charitable donations this year demonstrates their remarkable generosity and enduring commitment to helping those in need. Their donation to the Royal Navy and Royal Marines Charity has helped us continue to ensure that our nation's sailors, marines and their families are supported, for life. We would like to thank The Royal Edinburgh Military Tattoo for their support and we look forward to many more years of this truly spectacular event."
Brigadier (Ret'd) Robin Bacon, Chief of Staff, ABF The Soldiers' Charity, adds: "We are enormously grateful to The Royal Edinburgh Military Tattoo for its incredible generosity and enduring support to The Soldiers' Charity; this very significant donation enables us to continue to help our soldiers, veterans and their immediate families in time of need."
Air Vice-Marshal David Murray, Controller of the RAF Benevolent Fund, said: "Partnerships with wonderfully generous organisations like The Royal Edinburgh Military Tattoo are invaluable to continue the welfare work the RAF Benevolent Fund carries out in support of the RAF Family. The Fund is proud to have worked with the Tattoo and be supported by them for a number of years.
"Specifically this grant of £174,500 will support our new Wellbeing and Employment Pathway project for beneficiaries living in Housing Trust properties who are wounded, injured or sick; the provision of our Airplay youth sessions at RAF Lossiemouth; and Individual Grants to support the specific welfare needs of our beneficiaries.
"The RAF Benevolent Fund exists to ensure no member of the RAF Family faces adversity alone, thanks to The Royal Edinburgh Military Tattoo we are able to improve the lives of our brave serving and retired RAF personnel."