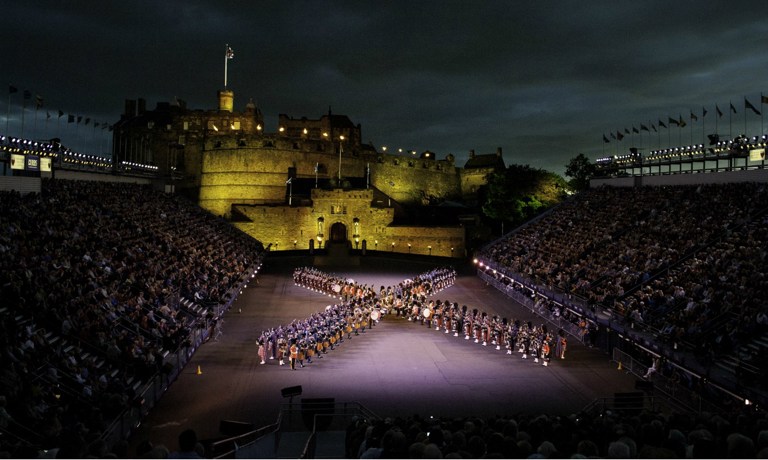 Year of Homecoming 'Taste of the Tattoo' shows announced
Free 'Taste of the Tattoo' shows planned across Scotland
Particulars of three exclusive taster performances of this summer's 65th Edinburgh Tattoo, (1 – 23 August) have today been revealed by Tattoo organisers in Edinburgh.
Details of the complimentary hour long 'Taste of the Tattoo' presentations, which have been created to celebrate the Year of Homecoming, include performances in Stirling 'the brooch which clasps together the Highlands and the Lowlands', the bustling metropolis of Glasgow and Scotland's waterfront and sunniest city, Dundee.
This series of free lunchtime events, which are expected to be witnessed by thousands of people across Scotland, will showcase some 600 performers, featuring performers from Canada, Australia, Singapore, Malta and the United Kingdom and will take place at the following locations:

Date                           Time               Venue                               Contact Details
Thursday, 7th August     12.30-1.30pm      George Square, Glasgow
Tuesday, 12th August     12.30-1.30pm      Port Street , Stirling                  Stirling2014@stirling.gov.uk                                                                       
Tuesday, 19th August    12.30-1.30pm       City Square, Dundee                 01382 527527

The line-up will include audience favourites such as the Trinidad and Tobago Defence Force Steel Orchestra, Highland Dancers from 'Down Under', Massed Military Bands, an Indian cultural troupe, along with the inimitable Massed Pipes and Drums.

Royal Edinburgh Tattoo Chief Executive & Producer, Brigadier David Allfrey, said:
"We have a stunning Tattoo ready to go! We have perhaps the largest gathering of Pipes and Drums for many years, an unparalleled number of new contributors from across the Commonwealth, with over 100 highland dancers and a wonderful score! And, if this were not enough, we have all three Royal Marine Bands on parade - perhaps the greatest musical instrument on the planet! So, it is only proper that we try and share these riches around in this special Homecoming year when Scotland Welcomes the World. We are looking forward very much to coming to Glasgow, Stirling and Dundee."

Cabinet Secretary for Culture and External Affairs, Fiona Hyslop, said: 
"The Royal Edinburgh Military Tattoo is a firm favourite in Edinburgh's thriving festivals scene, attracting thousands of people to Scotland every year to experience this internationally renowned celebration of music and entertainment.
"As we welcome the world to Scotland in 2014 for our second year of Homecoming, these taster events will showcase the magic of the Tattoo, and Scotland's rich culture and heritage to new audiences from across Scotland and those who are visiting us from around the world."

Mike Cantlay, Chairman of VisitScotland, said:
"Once again, the Edinburgh Tattoo is one of the must-see events of the summer. These taster performances are terrific news for people around the country who may not have experienced the sights and sounds of this spectacular event. They are an excellent addition to our already outstanding line-up of Homecoming 2014 events taking place throughout the country, showcasing a wealth of Scottish culture, music and arts."