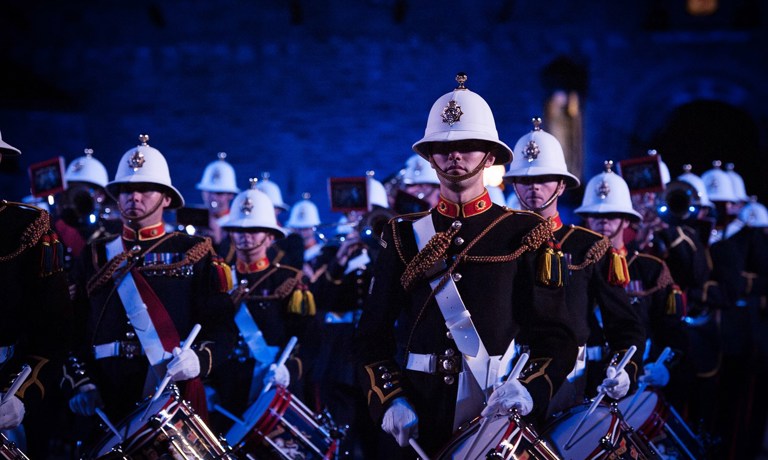 The Tattoo Heads to Glasgow
Homecoming 'Taste of the Tattoo' run opens in Glasgow on Thursday 7 August 2014
George Square in the heart of Glasgow's cosmopolitan city centre will this Thursday come alive to the spellbinding sounds of KwaZulu-Natal as iNgobamakhosi Zulu Dancers together with a top multi-national cast from the Scottish Capital's showpiece military event present the first of three free nationwide 'Taste of the Tattoo' performances from this summer's sold-out 65th Edinburgh Tattoo (until 23rd August).
As key part of Year of Homecoming celebrations, some 600 performers from this month's record-breaking production are set to steal the ear and ignite the imagination with a colourful feast of music, song, dance and spectacle.
"In this extraordinary year for Glasgow, and in the wake of the City's triumph with the Commonwealth Games, the Tattoo is proud to present a 'taste' of our own event." said Tattoo Chief Executive & Producer Brigadier David Allfrey, "In recent times, we have made a wonderful routine of coming over to George Square during August, not only to showcase the Show for the people of Glasgow but also to show our international performers the City; a city where every day offers some splendid adventure and the warmest of welcomes. This year is unique for Glasgow in so many ways and we are looking forward very much to being part of it."
Cabinet Secretary for Culture and External Affairs, Fiona Hyslop said: "The Tattoo is a unique event in Scotland's cultural calendar and does much to raise Scotland's profile as an international centre of culture. As we celebrate our rich cultural heritage in the Year of Homecoming, it is great to see a wider audience being given the opportunity to sample the Tattoo experience for free."
Attractions such as Trinidad & Tobago's awesome Steel Orchestra, New Zealand's enthralling Maori Warriors, the extraordinary talents of Shetland's Hjaltibonhoga Fiddlers and Nagaland's gifted Folkloric ensemble , are set to provide a cornucopia of entertainment from around the world.
And they will feature alongside dazzling displays from Her Majesty's Royal Marines, the Maltese Army's elite Military Band, and Singapore's Armed Forces Central Band, together with the stirring sight and sound of the world-famous Massed Pipes & Drums.
The three complimentary 60-minute Homecoming 'Taste of the Tattoo' presentations are scheduled to take place across Scotland at the following locations:
Date                               Time                       Venue                             Contact Details
Thursday, 7th August   12.30-1.30pm     George Square, Glasgow
Tuesday, 12th August   12.30-1.30pm     Thistles Shopping                stirling2014@stirling.gov.uk
                                                               Centre Precincts, Stirling 
Tuesday, 19th August   12.30-1.30pm     City Square, Dundee             01382 527527

Mike Cantlay, Chairman of VisitScotland, said:
"The Taste of The Tattoo event in Glasgow is a fantastic opportunity for people in the city to enjoy one of the must-see events on Scotland's summer calendar. Following the spectacular success of the Commonwealth Games, the George Square event boasts more than 600 performers and is an excellent addition to the Homecoming Scotland programme."