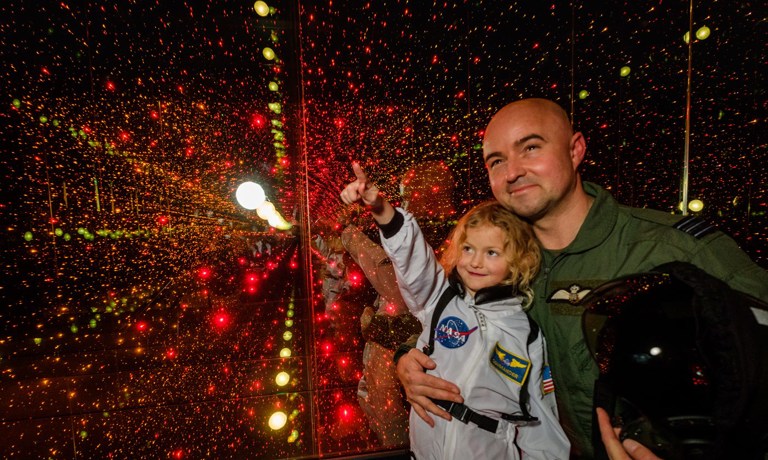 The Sky's the Limit in 2018
Tattoo to celebrate human potential for 'The Sky's the Limit' in 2018
Humans' greatest endeavours will be celebrated at next year's Royal Edinburgh Military Tattoo, organisers have revealed, as tickets for the 2018 show go on sale from Friday, 1 December.
Inspired by Scotland's Year of Young People, the Tattoo has also unveiled 2018's theme 'The Sky's the Limit'. In a year that will be led by The Royal Air Force (RAF), which is marking its 100-year anniversary during 2018, the show will celebrate the breaking of barriers and human potential being infinite.
Tickets for next year's event go on sale on Friday, 1 December at 10am and range from £25 to £340. This year, the Tattoo sold out for a nineteenth consecutive year.
Taking place against the iconic backdrop of Edinburgh Castle to a live audience of 220,000, the military extravaganza will return for 24 performances during August with a 100-minute showcase of music, dance and technical wizardry, including some of the world's finest military bands and performers.
Acts will be announced ahead of next year's summer showcase but organisers have confirmed that fan favourites, the Massed Pipes and Drums – drawn from across the Armed Forces, Canada and Australia – and the Highland Dancers will both return to set the Esplanade alight.
Brigadier David Allfrey, Chief Executive and Producer of The Royal Edinburgh Military Tattoo, said:
"Scotland's "Year of Young People" offers a fabulous opportunity to help inspire the up-and-coming generations to reach for the sky. This year too, we are delighted to support The Royal Air Force in celebrating their 100th anniversary and they will be the lead Service at the Tattoo.  With these two ingredients, under our own theme of The Sky's The Limit, we can explore gravity, the history of manned flight - even into space - and explore the power of human potential in the round. 
"We are looking forward to exploring all manner of creative possibilities and collaborations in the production, in the international cast, in the music, in the lighting and projection and in special effects.  There are some exciting prospects and some of them out of this world!  It is all about unleashing human potential, not just in the Show but in life generally."
"We are so proud to have sold out for the last consecutive nineteen years, and are constantly working to deliver innovative new dimensions in the Show.  And, while we always stay true to the core, with Massed Pipes and Drums, the Massed Military Bands, our Dance Company, Hjaltibonhoga and some sensational international contributions, the Show is new each year and there will always be a twist. 
"It is an exciting time when we go on sale and I would encourage everyone to look at their plans for the summer ahead and think about booking their place on this stellar journey.  We have ignition!" 
Tickets are available to purchase directly from the Tattoo's official website at www.edintattoo.co.uk or by calling +44 [0] 131 225 1188.