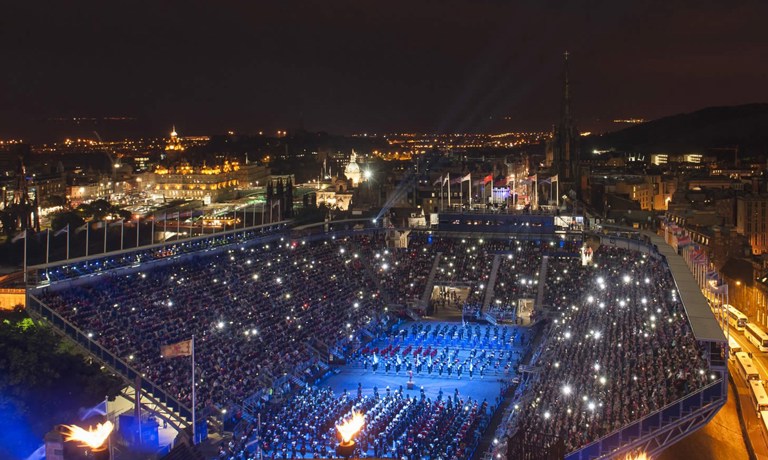 Tattoo Advance to 16th Sold-Out Season
Tattoo Advance to 16th Sold-Out Season
The 65th Royal Edinburgh Military Tattoo has now sold-out, earlier than on any previous occasion over the last four years.
All the available tickets for the annual RBS-sponsored summer spectacle have now been snapped up, the third successful season at the production helm for Tattoo Chief Executive & Producer, Brigadier David Allfrey.
He said: "We are delighted to 'sell out' the Show! For me this represents a huge reward for all our staff and partners, who have worked so professionally to deliver this outstanding result.
The 2014 Tattoo has been very well received by our audiences on Friday and Saturday and our Box Office continues to work hard to accept 'returns' - that cannot be used for whatever reason - and advertise these each day to customers who are without tickets.
This is a special year for Scotland and with the Commonwealth Games in the vanguard; focus is now shifting to the Edinburgh Festivals, a rich events and festival programme across the rest of the country and the Ryder Cup later on. We are hugely proud to be playing our part in a particularly successful summer."
This marks the sixteenth successive sold-out season for the Tattoo and demonstrates the event's enduring appeal notwithstanding the continuing economic challenges.
215,800 tickets for the 3-week military showpiece on the Castle Esplanade have now been sold generating some £9.6 million in box office receipts, marking the 65th extravaganza as another Tattoo triumph.
The sold-out signs were raised this morning though some resale tickets may be available for performances until the end of the 2014 run on August 23rd.