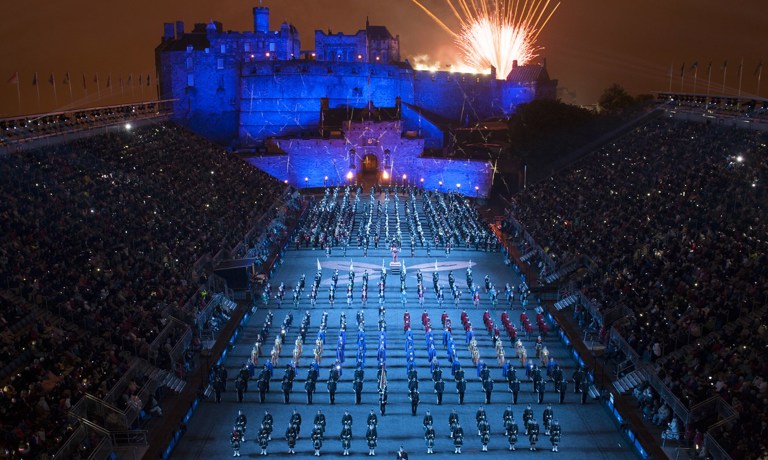 Preview Tickets on sale 21 July 2014
50% off Tattoo Ticket Prices for Preview Performance on 31 July 2014
A limited number of half-price tickets for the Thursday 31st July preview performance of this year's Tattoo will go on sale from the Tattoo Ticket Sales Office on Edinburgh's Market Street at 10am on Monday 21st July 2014. Tickets may also be obtained online at www.edintattoo.co.uk and by telephone (0131 225 1188) using a credit/debit card (a booking fee of £5.00 will be applied per transaction).
Ticket prices for this performance range from £12.50 to £30. Regular admission charges for the other entire 2014 Tattoo performances, scheduled to take place from 1-23 August, span between £25.00 to £62.00.
Tattoo Chief Executive & Producer, Brigadier David Allfrey, said: "This is a wonderful opportunity for everyone to see the Tattoo at a 50% discounted rate. While I know locals traditionally look forward to this opportunity each year, the Box Office is open to everyone and we are seeing an ever-increasing interest in the Preview both online and over the telephone. The queue starts in Market Street early in the morning and this all adds to the excitement. For us, the release of tickets for the Preview Show is one of the major milestones in the year. This summer, in particular, we have an extraordinary Show and are very much looking forward to taking the brakes off." 

This year's 90-minute production features an exciting line-up for the 65th Tattoo, with acts from Singapore, New Zealand, Malta and the Middle East as well as from across the United Kingdom. The theme, 'Our Home, Friends and Family' defines the 2014 production, which also features one the largest pipe bands to grace the Esplanade at Edinburgh Castle and 40 remarkable fiddlers from Shetland especially assembled for their Tattoo debut.