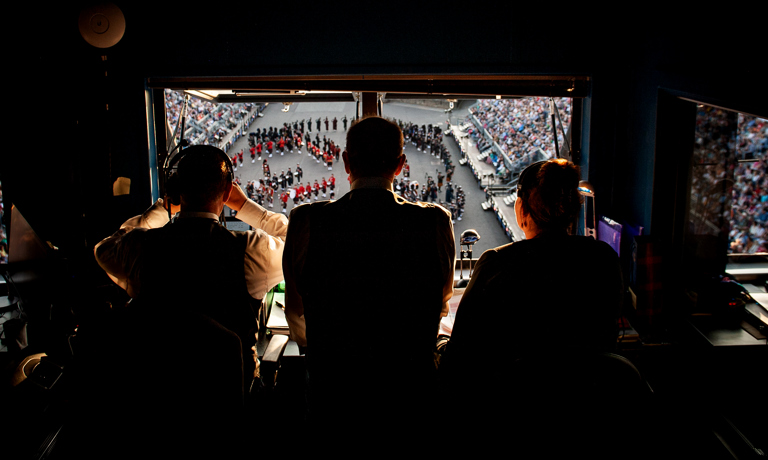 Meet the team behind the scenes of the Tattoo
The Royal Edinburgh Military Tattoo graces the Esplanade of Edinburgh Castle each August, but have you ever wondered what goes on behind the scenes? We welcome you to find out more about the people who make the magic happen.
Every year an event like no other is mounted on the Esplanade of Edinburgh Castle that welcomes audiences and performers from around the globe. Taking centre stage, these performers wow audiences with military excellence, cultural spectacle and Scottish tradition, but there is so much more to the Tattoo than a Show.
To give you a real insight we'd love to present those people behind the scenes and let them, in their words, explain exactly what role they play in the iconic Tattoo.
Buster Howes, CEO
First up, Buster Howes joined the Tattoo as CEO in June 2020 and has relished the opportunity to head up the historic company. Previously a trustee on the Board, Buster is no stranger to the Tattoo and looks forward to welcoming audiences back to the Esplanade in 2021.
Watch below to find out more about his role.
Rucelle Soutar, Chief Operating Officer
Rucelle Soutar took on the position of Chief Operating Officer in 2018, having previously held the Head of Finance role. Take a look at her video to find out more about her day to day role and just how much the people behind the scenes mean to the Tattoo.
Alice Campbell, Legal and Governance Manager
Amongst a multitude of responsibilities, our Legal and Governance Manager, Alice Campbell, is also responsible for managing our charitable giving each year. Working closely with beneficiaries across military and arts charities to ensure the money we raise reaches those we support.
Find out more about how she does this, and who we support each year through our charitable giving.
Laura Hopper, Sales Assistant
Hailing from Canada, Laura Hopper joined the Commercial team in a Box Office and Retail role and has thoroughly enjoyed being part of a world-famous event. With a view of the Tattoo from an international perspective, find out what surprised Laura most about the event when she started.
Ed Fenton, Head of Operations
Head of Operations, Ed Fenton is responsible for the operational and production element of The Royal Edinburgh Military Tattoo. Alongside his expert team, Ed ensures the Show comes together in the best possible way – from creative execution on the Esplanade to a rigorous stand build plan.
Watch as he takes us through exactly how the Tattoo Show is produced
Katie Glynn, Box Office Manager
Katie Glynn has been a key part of the ticketing team for many years and now takes on the role of Box Office Manager. Managing the ticket sales and enquiries process, Katie talks to us about how she works hard to ensure a seamless customer experience for every single person that comes to the Tattoo.
Mick Hay, Retired Senior Drum Major
A well-known face on the Edinburgh Castle Esplanade, Former Senior Drum Major Mick Hay retired from the Military in 2019 and immediately took on a role within the Tattoo team as Pipers Trail Administrator.
Watch as he talks about that feeling you get as a performer, and his leap from military to civilian life.