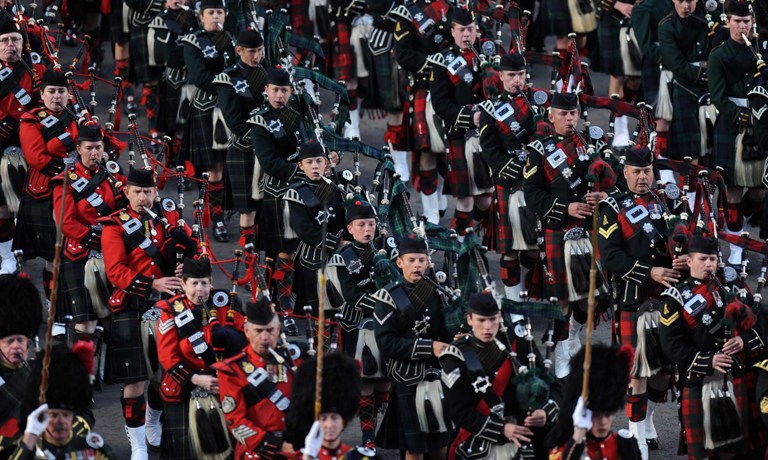 Homecoming's Taste of the Tattoo set for Stirling
Homecoming's Taste of the Tattoo set for Stirling
With its imposing Castle, a spectacular crag and superb steeped cobbled streets sees Stirling stage the second of this summer's complimentary lunchtime 'Taste of the Tattoo' presentations this Tuesday, August 12th at 12.30pm.
After a short parade from Stirling's Albert Halls, 600 top-flight performers from this month's sold-out showpiece military event will assemble in Port Street by the Thistles Shopping Centre Precincts where they will provide a 60-minute taste of the 2014 Royal Edinburgh Military Tattoo (until August 23rd).
Featuring, amongst others, the sunny sound of the Caribbean with the Trinidad & Tobago Steel Orchestra, the acclaimed Band of Her Majesty's Royal Marines, South Africa's iNgobamakhosi Zulu Dancers, the incomparable Massed Pipes and Drums plus the folklore of Nagaland's tribal ensemble from North East India, the stage is set for a smorgasbord of inspiring multi-national and multi-cultural entertainment.
"It is always a pleasure to come to Stirling and we are thrilled to be able to come to the City in this 'Year of Homecoming', hot on the heels of a successful Armed Forces Day and Bannockburn Live. We are looking forward very much to offering a taste of this year's extraordinary cast and their performance," said Tattoo Chief Executive & Producer, Brigadier David Allfrey.
"Stirling has a rich martial pedigree and stands on Scotland's principal crossroad - it is a place that soldiers have been drawn to for centuries. It will be wonderful to see the Massed Pipes and Drums and the Massed Military Bands along with all our colourful international contingents at the centre of the City tomorrow," he concluded.
The two remaining taster performances from this summer's Tattoo are scheduled as follows:
Date                               Time                       Venue                             Contact Details
Tuesday, 12th August   12.30-1.30pm    Port Street, by Thistles           stirling2014@stirling.gov.uk
                                                            Shopping Centre Precincts, Stirling 
Tuesday, 19th August   12.30-1.30pm     City Square, Dundee             01382 527527
Stirling's Provost Mike Robbins said: "I'm delighted that the Royal Edinburgh Military Tattoo is coming to Stirling and hope that people everywhere will join us for what promises to be a truly memorable event.
Stirling has a rich military history and is the perfect location for this fantastic free event. It's just one of many high-profile events taking place in Stirling during 2014, which showcases our fantastic city and everything it has to offer."

Mike Cantlay, Chairman of VisitScotland said:
"A taste of the Tattoo with the stunning backdrop of historic Stirling will be a spectacular sight to behold and as a local, I very much look forward to experiencing the amazing talent on show as they perform to what is always a very enthusiastic crowd.  The eyes of the world have been on Stirling this year with outstanding events such as PipeFest Armed Forces Day and Bannockburn Live and this wonderful taster event, one of only three across the country adds another highlight to Stirling's already packed calendar. This is a unique and wonderful celebration of Homecoming, and we hope visitors and residents alike enjoy a taste of one of the biggest events in Scotland's year – the Royal Edinburgh Military Tattoo."