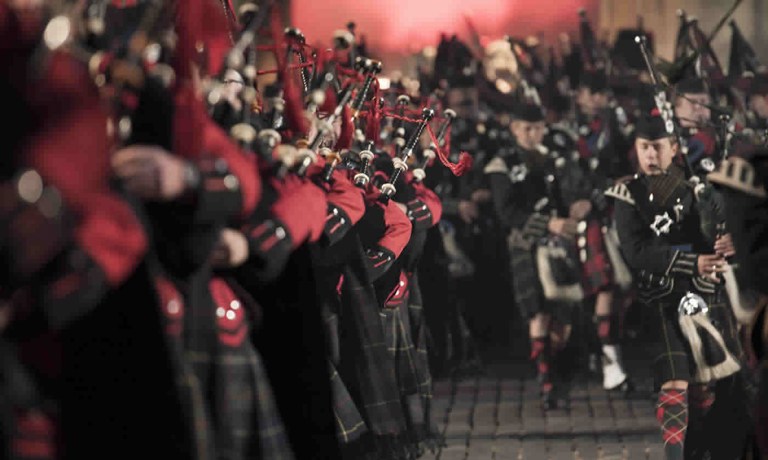 Free Mini-Tattoo For Dundee's City Square
Free Mini-Tattoo For Dundee's City Square
Dundee tomorrow (Tuesday, August 19th) marks the last in the series of popular Homecoming Taste of the Tattoo performances.
Building on the success of a programme of three Tattoo taster events sees this innovative Homecoming initiative continue to provide those who have been unable to obtain a ticket for the sold-out Military showpiece on the Castle Esplanade with a flavour of the 2014 record-breaking production.
The close of this year's hugely popular mini-Tattoo schedule is set to take place at City Square in Dundee's town centre on Tuesday at 12.30pm.
Resplendent in full ceremonial attire, some 600-performers will gather to present a fabulously cosmopolitan programme of music, colour, theatre and dance.
Featuring the uplifting sound of Trinidad and Tobago's award-winning Steel Band, the brisk style and crisp precision of Singapore's Armed Forces Central Band, the acclaimed Her Majesty's Royal Marines, and the talents of 40 fiddlers from Shetland.
Tuesday's free 1-hour concert will also include representatives from the awesome Massed Pipes & Drums, Nagaland's Folkloric ensemble and the iNgobamakhosi Zulu Dancers, amongst others.
Tattoo Chief Executive & Producer, Brigadier David Allfrey, who will be in attendance on August 19th, said: "It is a thrill for us to bring the Tattoo to The City Square. Our outreach programme this year - as part of the 'Year of Homecoming - has been a tremendous adventure. We have made lots of new friends. It is wonderful that we have sold out for the 16th consecutive season but I remain ever-conscious that our home audience does not always get to see the live Show; our overseas visitors are particularly quick off the mark when tickets go on sale in December each year."
"We are proud to act as one of the cornerstones of Scottish Tourism and delighted that our visitors travel widely from Edinburgh taking advantage of everything that Scotland has to offer - including the great City of Dundee and its hinterland."
"There is so much for us all to be proud of in the Tattoo. It is a great Scottish show with the Pipes and Drums to the fore, with Massed Military Bands - this year Her Majesty's Royal Marines - alongside other world class acts from Scotland and the wider Commonwealth. Always entertaining, inspiring and different every year! We are thoroughly looking forward to coming to Dundee."
Dundee Lord Provost Bob Duncan, host of Tuesday's free lunchtime event, said: "I'm very much looking forward to the Royal Edinburgh Military Tattoo coming to Dundee for what should be a spectacular event.
"We're very proud to host this taster event and I'm sure the people of the city will turn out in their numbers.
"The City Square has been a massive part of this year's summer holidays and this is an excellent treat for families before the schools go back."
Mike Cantlay, Chairman of VisitScotland, said: "The Homecoming Scotland Taste of the Tattoo events have been a resounding success, bringing a small but spectacular glimpse of this wonderful to show to cities outside of Edinburgh. The last stop is the cultural and historic city of Dundee and I'm sure residents and visitors alike will enjoy experiencing this unmissable performance. I would encourage everyone to head along to the City Square to be entertained by the unique sights, sounds and fun!"