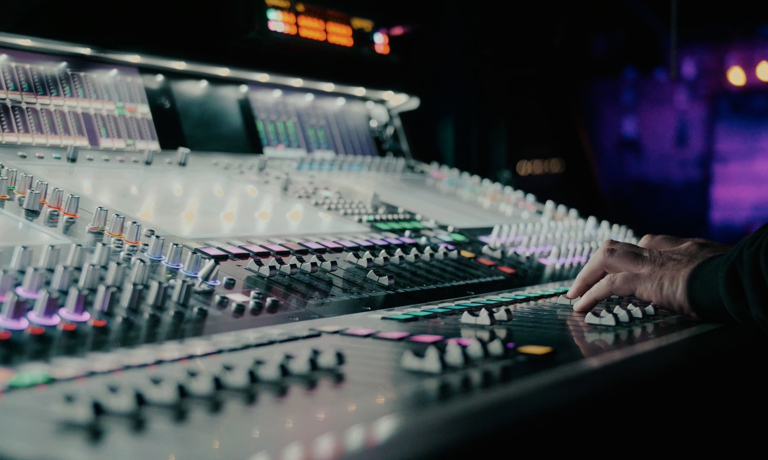 Helping us to express ourselves with sound this year, is experienced sound designer Sebastian Frost. We caught up with him to find out more about his involvement and what goes on behind the scenes.
This August our Show is all about how we express ourselves. From dance, military drill to music, we want you to share in our celebration of expression.
Music is an integral part of our event, with military and civilian bands showcasing their exceptional instrumental skills whilst also performing complex formation marching.  
We had the chance to catch up with award-winning sound designer Sebastian Frost, who has over 25 years of experience in sound design and has worked on hundreds of live productions, including West End and Broadway Shows.
Since the age of 17, Sebastian has played a role in the Edinburgh Festivals, and the city of Edinburgh and its inhabitants hold a special place in his heart. Having been part of the Tattoo's sound design team for over 27 years, Sebastian knows well how important a sense of immersion is for our event - we want each and every audience member to feel as though they are standing on the Esplanade alongside the musicians. We had the pleasure of catching up with Sebastian to find out more about him and his plans for August.
TELL US ABOUT YOUR ROLE AS SOUND DESIGNER
"One of the most import things that I am responsible for, is getting all the musicians and performers to play together. They're spread out over so many different parts of the Esplanade, they might be on the Ramparts, they might be on the Gatehouse, they might be underneath an archway somewhere and they all need to sing and play together at the same time. So my number one job at the Show is giving the performers the means and methods to be able to do that.  This ensures that the end product sound really good for the audience."
ARE SOME INSTRUMENTS MORE CHALLENGING TO WORK WITH THAN OTHERS?
"There is always a huge variety of instruments involved in the Show. It's always a really amazing group of musicians and different instrumentation involved the Show.
Over the last couple of years, I have introduced a new system that tracks the position of the performers as they move around the Esplanade. This allows the sound from the performer's microphones to travel through the loud speakers in the arena at exactly the right time, meaning  that no matter where members of the audience are seated, they will always hear the right thing at the right time."
HOW DO YOU PREPARE FOR A TATTOO SHOW?
"We start preparing for the next Tattoo straight after the previous Show has ended. There are always things you want to change and aspects that you feel you can improve on to make a better Show for the audience.
In March and April we really start pulling together the details of the Show. Having in depth conversations with each of the performer groups to work out which performers are going to be performing where, how many of them there are and what equipment I will need to support their performance."
WHO DO YOU WORK WITH AT THE TATTOO?
"Music is a huge part of the Tattoo. I work closely with the people who make the music and the people who write the music, in this case Tom Hodge and the musical directors. It's really important that we work together to ensure that everything runs smoothly.  
Much of the music is coordinated with lighting and pyrotechnics, so we have systems that synchronize all those things together to make sure that they happen at exactly the same time every single night."
IS THERE A PARTICULAR SONG OR MOMENT IN THE SHOW THIS YEAR THAT THE AUDIENCE SHOULD LOOK OUT FOR?
"I am going to keep that one under my belt for the time being because I know there is lots in there. This year's Voices Show certainly has a 'greatest hits' kind of feel about it in terms of the acts and bands that we have got appearing. I have worked with many of them in the past, and they are absolutely up there amongst my favorites."
We pride ourselves on creating an immersive event and strive to ensure that each you feel an emotional connected to the twists and turns in our Show. Come along and experience it for yourself this summer!