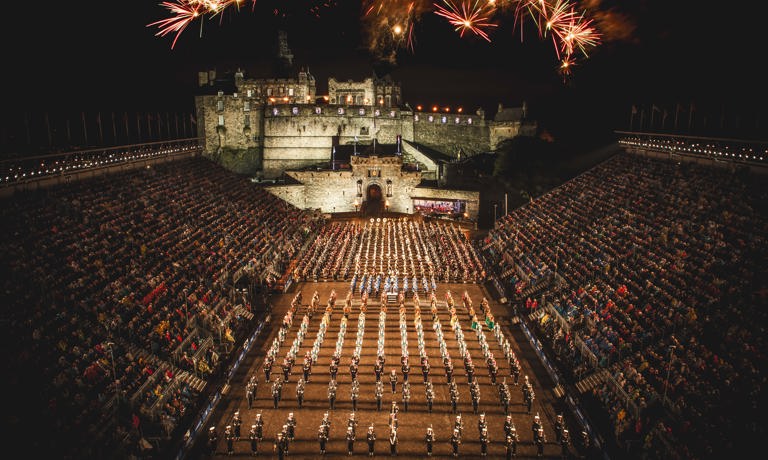 The venue
The Edinburgh Castle Esplanade is the spectacular home of the world-famous Royal Edinburgh Military Tattoo.
Sign up for updates
Approaching and queuing
The queue starts at the intersection of Johnston Terrace and the Royal Mile. It then proceeds around The Hub to the Castle Esplanade.
There is a short walk uphill from the entrance of the arena to the seats. This includes a minimum of 5 steps to reach the front row seats followed by 3 more steps per row to the seating higher up in the stands.
Doors open approximately 45 minutes before the start of the performance. You should aim to be seated 15 minutes before the performance begins. Follow instructions from the Police and security staff. They will do their best to ensure you get to the Tattoo safely and on time.
This being Scotland, we recommend that you check the weather forecast for the day of your show in advance. The Royal Edinburgh Military Tattoo has never been cancelled due to bad weather, so please dress accordingly. 
Vehicle passes
If you have purchased disabled seating, you may be able to request a vehicle pass that will allow access to the Esplanade by car, taxi or ambulance. See Disabled Access below or contact the Tattoo office for more details.
Vehicle passes are subject to availability and cannot be issued for any performances on Saturdays or for the Preview Performance under any circumstances.
Large coaches are not permitted to join the disabled convoy.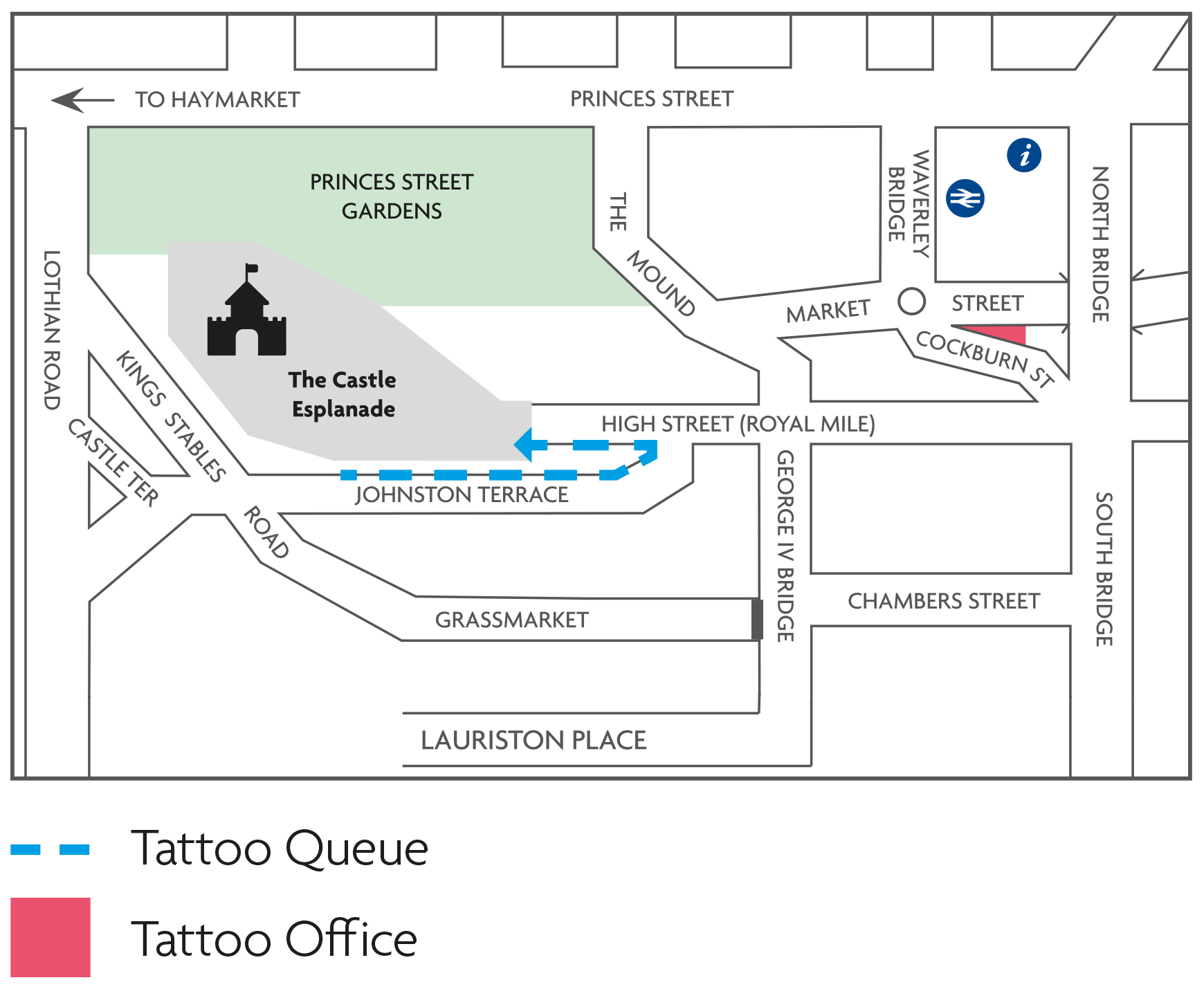 Venue Information
Bags
Only small bags or rucksacks under 20 litres are permitted. All bags brought into the venue will be searched which may lead to longer queuing times.
Toilets
Toilets, including accessible toilets, are available.
No umbrellas
Umbrellas are not permitted to be used in the arena.
No glass bottles
Glass bottles are not permitted.
No flash photography
Flash photography is not permitted. Photography cannot be used for purposes of commercial gain.
Clothing
Wear clothing that will protect you from the Scottish weather. You may want to bring a hat, gloves and a blanket to stay warm. A poncho or raincoat is a good idea in case it rains.
No alcohol
Do not bring alcohol to the venue.
No sharp objects
Sharp objects are not permitted.
Wheelchair friendly access
Wheelchair friendly access is available and is shown on our seating plan.
Hearing difficulties
Neckloop induction coils for use with hearing aids equipped with a T switch are available (subject to availability). This equipment must be booked in advance by contacting the Tattoo office.
Vision impaired
Audio Description will be available for the Preview Performance on Thursday 1st August and Thursday 8th 2019 (subject to availability). This equipment must be booked in advance by contacting the Tattoo office. 
Touch Tour is also available prior to each Audio Described performance.
No smoking or vaping
No smoking or vaping in the Tattoo arena.
Kiosk
A selection of blankets, clothing and ponchos are available to purchase at our kiosk on the esplanade or alternatively The Tattoo shop on 1 Cockburn Street.
Coach parking
There are special arrangements for coaches bringing people to see the Tattoo to minimise congestion. As at any other time of year, coaches may be parked on Regent Road, but the following additional streets have also been reserved for coach parking:
Chambers Street (accessible only via George IV Bridge)
Lauriston Place – North side only between Keir Street and George Heriot's School (accessible only via Tollcross)
King's Stables Road (accessible only via Lothian Road)
Chambers Street will be closed to other traffic, but coaches parked on Lauriston Place and King's Stables Road should be careful not to block normal traffic flow.
Coaches should remain parked until their passengers return after the performance.
Coach parking at these locations is permitted from the following times:
From 7:00pm for Monday to Friday performances at 9:00pm
From 6:00pm for Saturday performances at 7:15pm
From 7:30pm for Saturday performances at 10:30pm
Coaches parking earlier than these times do so at their own risk.
If you are a tour operator, be sure your driver and tour director know about these coach parking arrangements.
Tattoo stewards will direct coach parking at these locations and will be available to answer any questions.
Disabled Access
The Royal Military Tattoo is Scotland's biggest, bestselling outdoor spectacle. We don't want anyone to miss out. The venue itself is situated in the most popular part of the city by the Castle, high above the skyline. For this reason, it may present access difficulties for some. Mainly, the elderly, those with disabilities and anyone of limited mobility. We've planned as best we can to help as many guests as possible enjoy this fantastic occasion.
If you have any questions about venue accessibility for your specific needs, please just contact the Tattoo Office. We'll do our very best to assist.
Provisions can made by our security staff at the front of the Tattoo queue to allow you to make your way up to the Esplanade at your own pace, ahead of the main crowd. Please request this assistance from security staff at Castlehill on arrival. 
Wheelchair access
Wheelchair seating is designated within the arena along the front row sections 1-5 and 12-17 as well as Section 10 facing Edinburgh Castle and allows for an attendant's seat at no cost.
Ticketholders in wheelchairs and their attendants can be seated in designated areas ahead of the main crowd. 
While we do not provide wheelchairs for guests, every effort is made to assist ticket holders into their seats when we have the resources to do so.
Vehicle and convoy access
We allow access to the Esplanade with vehicle passes and then form a convoy for up to 30 cars and other minibuses. This allows for early arrival to the arena, at no extra charge. This should be arranged when purchasing tickets via our box office.
Guests taking advantage of the convoy facility or arriving by taxi should make their way to their seats from the Esplanade. Please note, this does mean that guests are on the Esplanade from 7.35pm until 11.30pm. We recommend that ticket-holders arriving by convoy arrange pre-booked taxis for collection after the show.
Disabled Facilities
Toilets
The arena has four designated, fully accessible toilets. These are accessed by steel ramps which some guests may need assistance. Ushers are available to help out, please ask for support if required.
Low-level ramp access
Low-level seating is easy to access from the Esplanade via ramps. Seating is designed so that wheelchairs are interspersed with companion seating alongside.
We do our best to allocate seating for accompanying relatives or friends of wheelchair users in the front rows in the North and South stands. This must be arranged at the time of booking. Our staff are ready to lend a hand in our box office. Disabled tickets cannot be purchased online.
Lift
Seating at an upper level is available in Section 10, which is accessible by lift. The lift can accommodate wheelchairs or motorised chairs. This also enables wheelchair users to gain access to the VIP suite in our Royal Gallery. This area also has a fully accessible toilet.