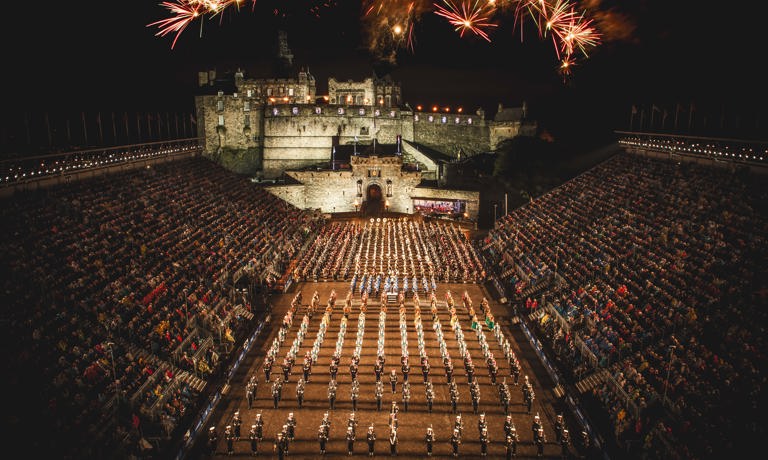 The venue
The Edinburgh Castle Esplanade is the spectacular home of the world-famous Royal Edinburgh Military Tattoo.
Approaching and queuing
There is only one queue to access The Royal Edinburgh Military Tattoo and this starts at Johnston Terrace, around The Hub, to the Castle Esplanade. For performances on Saturday at 10:30pm, please access the Castle via Johnston Terrace.
Doors open approximately 45 minutes before the start of the performance and you are requested to be seated 15 minutes before the start of the performance.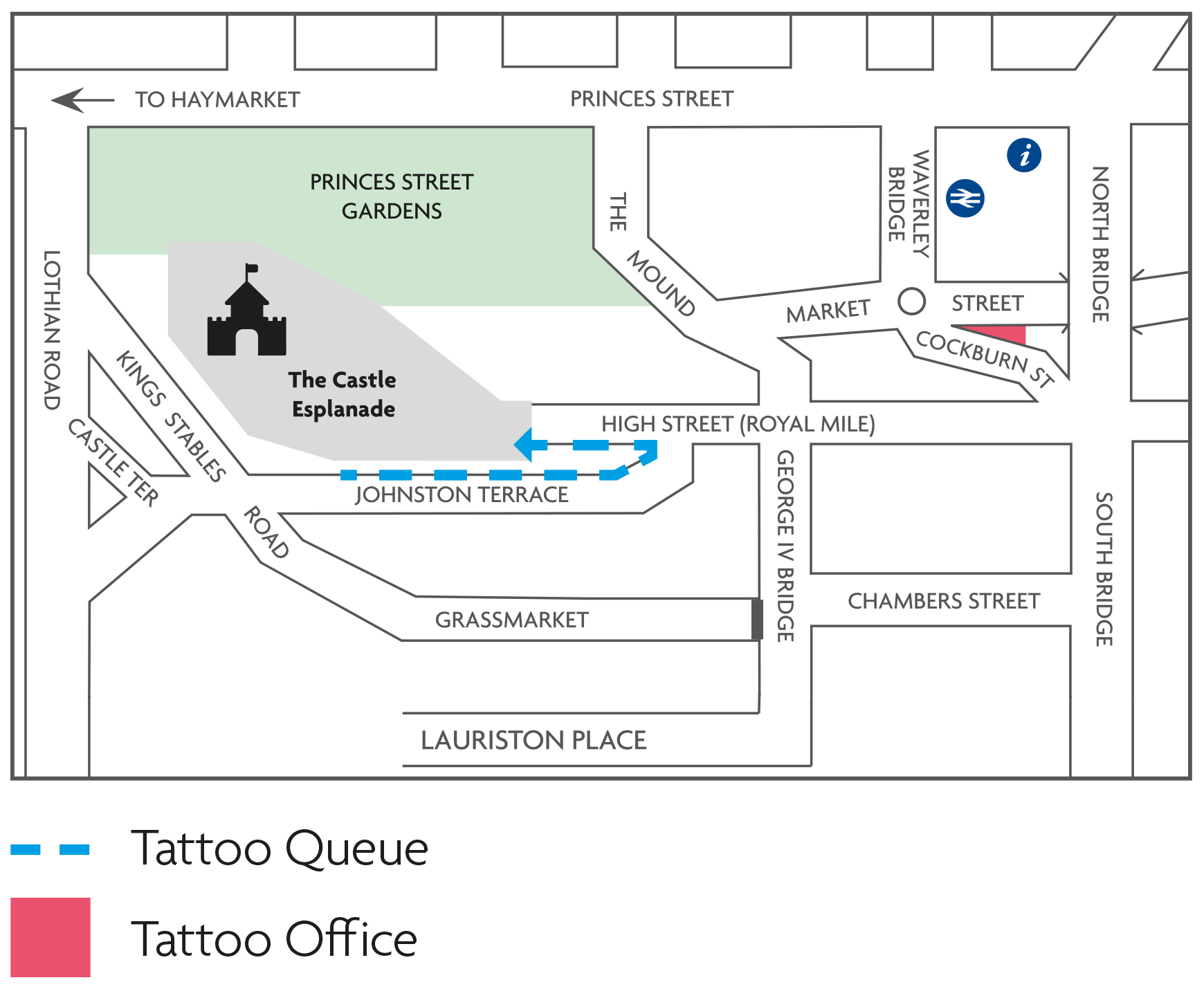 How to get here
By bus
The closest bus stop to the venue is located on George IV Bridge which is approximately 300 metres from the Castle Esplanade. George IV Bridge is serviced by Lothian Buses. Further details regarding bus routes and timetables can be found at www.lothianbuses.com.
By train
Edinburgh Waverley Train Station is a short walk of approximately 10 minutes from the venue and Edinburgh Bus Station is located approximately a 15 minute walk from the venue. Further details regarding bus and train services can be found at www.travelinescotland.com.
By car
Parking is not available at the venue. For a map and street guide to the main car parks in the centre of Edinburgh visit www.edinburgh.gov.uk/parking
Venue Information
Bags
Only small bags or rucksacks under 20 litres are permitted. All bags brought into the venue will be searched which may lead to longer queuing times.
Toilets
Toilets, including accessible toilets, are available.
No umbrellas
Umbrellas are not permitted to be used in the arena.
No glass bottles
Glass bottles are not permitted.
No flash photography
Photographs and videos (of less than two minutes) may be taken but should not be used for purposes of commercial gain. The use of "flash" equipment is expressly forbidden.
Clothing
We advise that you dress appropriately for the forecasted weather conditions and bring a warm and waterproof layer of clothing if necessary.
No alcohol
Do not bring alcohol to the venue.
No sharp objects
Sharp objects are not permitted.
Wheelchair access
Wheelchair accessible seating is available and is shown on our seating plan.
Hearing difficulties
Neckloop Induction Coils for use with hearing aids equipped with a T switch are available (subject to availability). This equipment must be booked in advance by contacting the Tattoo office.
Vision impaired
Audio description will be available for the Preview Performance on Thursday 1st August and Thursday 8th 2019 (subject to availability). This equipment must be booked in advance by contacting the Tattoo office. 
Prior to each Audio described performance a Touch Tour will be available where your describer will give a full account of the costumes and props you are introduced to and how they will feature in the performance.
Audio description equipment and places on the Touch Tour are subject to availability.
No smoking or vaping
No smoking or vaping in the Tattoo arena.
Merchandise
A full range of Scottish and Tattoo merchandise is available including DVDs, CDs, branded clothing, gifts and much more.
Visit our online shop at or our official shop at 1 Cockburn Street. A Tattoo merchandise kiosk is located on the Castle Esplanade during the Tattoo.
Coach parking
Special arrangements have been made for coaches bringing people to see the Tattoo to be set down and picked up at the same point in the city.
The following streets have been reserved for coach parking and should be approached in the following order, where you will be advised on availability of parking:
Chambers Street (accessible only via George IV Bridge), approximately a 10 minute walk to the venue
Lauriston Place - North side only between Keir Street and George Heriot's School(accessible only via Tollcross), approximatelya 15 minute walk to the venue
King's Stables Road (accessible only via Lothian Road), approximately a 10 minute walk to the venue
Chambers Street will be closed to other traffic, but coaches parked on Lauriston Place and King's Stables Road should be careful not to block normal traffic flow.
Coaches will be parked in these streets under the direction of Tattoo Stewards and remain in situ until passengers return after the performance.
From 6.15pm for Monday to Friday performances at 9.00pm
From 6.00pm for Saturday performances at 7.15pm
From 7.15pm for Saturday performances at 10.30pm
Coaches parking earlier than the times stated do so at their own risk. The Royal Edinburgh Military Tattoo accepts no liability for any coach issued with a parking enforcement notice in these circumstances.
If you are a tour operator, be sure your driver and tour director know about these coach parking arrangements.
If in doubt on any matter please refer to Tattoo Stewards in attendance and be guided by them.
Disabled Access
The Royal Military Tattoo is Scotland's biggest, bestselling outdoor spectacle. We don't want anyone to miss out. The venue itself is situated in the most popular part of the city by the Castle, high above the skyline. For this reason, it may present access difficulties for some. Mainly, the elderly, people with disabilities or of limited mobility, those with heart or respiratory problems and vertigo sufferers. We've planned as best we can to help as many guests as possible enjoy this fantastic occasion.
If you are in any doubt whatsoever about the venue accessibility, we recommend that you contact the Tattoo Office to discuss your particular requirements.
Wheelchair access
Access to the wheelchair areas in Section 1-5 and 12-17 is via a ramp and there is lift access to the wheelchair area at the top of Section 10.
Wheelchair seating is designated within the arena along the front row sections 1-5 and 12-17 as well as at the top of  Section 10 facing Edinburgh Castle and allows for an attendant's seat at no cost.
Ticket holders in wheelchairs and their attendants can be seated in designated areas ahead of the main crowd. 
While we do not provide wheelchairs for guests, every effort is made to assist ticket holders into their seats when we have the resources to do so.
Ambulant disabled access
A limited number of seats are available for those with restricted mobility in the front row of Sections 12-17. There are five steps to negotiate from ground level to these seats.
As the number of seats in the wheelchair and ambulant disabled areas are limited it may not be possible to sit your whole party together, as such it may be necessary to separate your party. We will however do our best to allocate seating for accompanying relatives or friends as close as possible.
Disabled vehicle passes
Subject to availability, vehicle passes may be issued to those who have purchased disabled seating to allow access to the Esplanade by car/taxi or ambulance. These cannot be issued on Saturdays or for the preview performance.
Large coaches are not permitted to join the disabled convoy.
Disabled Facilities
Toilets
Accessible toilets are available within the arena.
Low-level ramp access
Low-level seating is easy to access from the Esplanade via ramps. Seating is designed so that wheelchairs are interspersed with companion seating alongside.
Lift
Wheelchair seating at an upper level is available in Section 10, which is accessible by lift. The lift can accommodate wheelchairs or motorised chairs. This also enables wheelchair users to gain access to the VIP suite in our Royal Gallery. This area also has a fully accessible toilet.
Grab rails
Grab rails are available at the end of each row within each section of the arena.
Assistance dogs
Due to space restrictions, Assistance Dogs unfortunately cannot be admitted to the grandstand. They may, however, be accommodated in the accessible area at the front of Sections 1-5 and 12-17. Please contact the Tattoo Office should you require any further information.