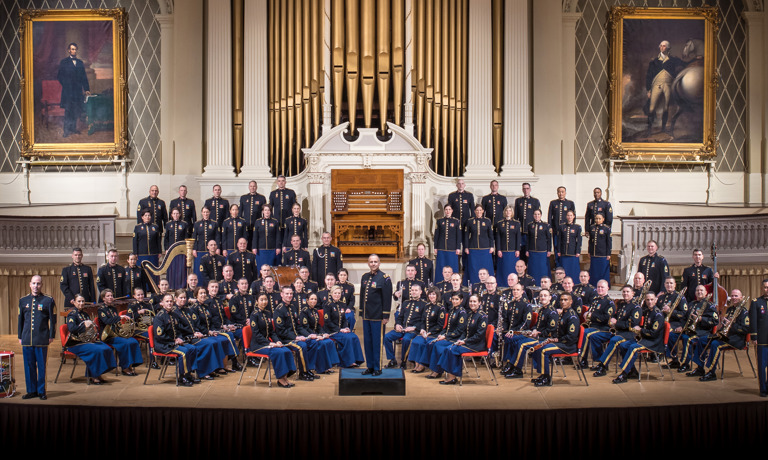 The United States Army Field Band make their debut Tattoo performance this summer
In honour of the United States of America's Independence Day today, we wanted to introduce you to just one of the brilliant US groups joining us this summer for our VOICES show.
Joining fellow Americans, the United States Air Force Honor Guard Drill Team and The Highland Divas, the talented United States Army Field Band will take to the iconic Castle Esplanade to share a little of their America culture with our audiences.  
Established in 1946, The United States Army Field Band celebrated its 75th anniversary last year. Since their inception, in their role as the Musical Ambassadors of the Army, they pride themselves on connecting America to its Army by telling their story and honouring their Soldiers and Veterans.  
Prepare for a showstopping, lively performance that will have you tapping along in your seats! 
We had the opportunity to catch up with United States Army Field Band, Director of Operations, Sergeant Major Erica Russo to find out more about what you can expect this summer. 
Tell us a little about the sort of events the United States Army Field Band usually participate in.
Typically, we send our various performing components on about 100 days of annual travel. This includes everything from events in small towns across America in high school gyms, to much larger events such as presidential funerals or joint armed forces events including the inaugural parade every four years.  
How are you involved in the Tattoo?
In 2018, Clara Wheelan, the Production Manager at the Edinburgh Tattoo saw us perform at the Norwegian Tattoo and she really appreciated what we were doing there. So, low and behold, a couple of years later she extended an invitation through Army leadership and headquarters and here we are! 
Tell us a bit about your performance at this year's VOICES Show?
Our performance this year is presenting the best of Americana, we're bringing everything from Leonard Bernstein, to pop favourites, and an inaugural performance of the Department of Defence's first dedicated hip hop musicians! So, it's a little bit of something for everyone and we're really enthusiastic to be able to bring something new to these performances.  
Tell us a bit about the different musicians in your band?
We have all sorts of musicians in the Army Field Band. For the Tattoo, we're bringing members of our concert band, members of our Jazz Ambassadors, members of our soldiers chorus and our hip hop artists. 
We have musicians who have been in the army for 3 months and we have musicians who have been in the army for 24 years. So it is a wide and diverse span of people who will be performing in Edinburgh. Really looking forward to it! 
Tell us a bit about the music.
We have a really upbeat routine planned for this year's Tattoo show. We're bringing you Indie Rock, electronic pop, musical theatre showstoppers plus much loved American classics.  
What are you most excited about performing at this year's Tattoo?
I think, the most exciting thing for me is the honour and thrill of representing the United States of America on this tremendous international stage. This is an opportunity for international partnership and collaboration and a truly unique way to connect nations and people from a diverse span - that's what's the most exciting to me.  
Do you have 3 words you would use to describe the Tattoo?
Excit

ing

 

Tradition

 

Innovation

 
Come along this summer to see the United States Army Field Band perform live on Edinburgh Castle's Esplanade.