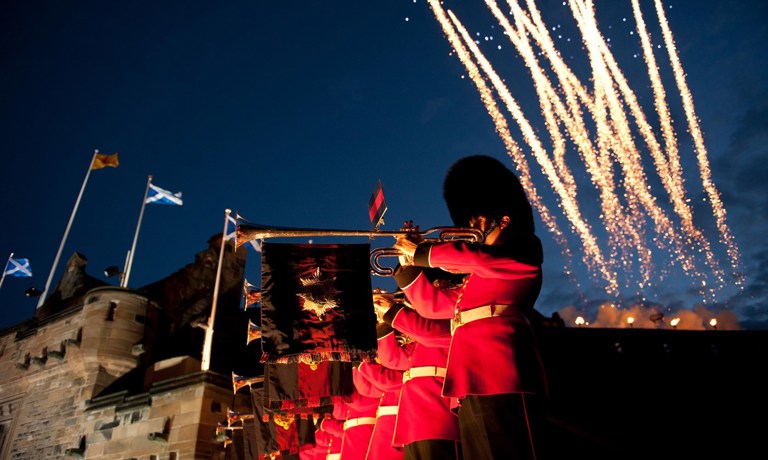 The Tattoo sets its sights on International expansion
The Sky's The Limit For The Royal Edinburgh Military Tattoo
The Royal Edinburgh Military Tattoo revealed its intent to continue the company's growth, reaching ever-larger audiences at home and abroad through an ambitious international expansion programme including doubling turn-over to £20million by 2025.
Having already staged hugely popular shows in Australia and New Zealand in the last 15 years, the Tattoo aims to significantly develop its operations to unleash its own potential by securing overseas tours in China, Australia and Canada from 2019 onwards.
A world showcase event selling out in Edinburgh every year, The Royal Edinburgh Military Tattoo prides itself on delivering under the three guiding pillars of: Military Entertainment, Influence and Social Contribution.  Supporting the latter, the organisation has donated over £10m to charity over the years and since 2016 has committed to donating £1m every year going forward.
In building on its current international  success, the Tattoo remains committed to sustaining its power and authenticity at home and abroad by supporting the development of our national talent - across a broad range of performer groups including the military - and by attracting, showcasing and supporting the best military and folkloric performers from across the globe.  
The ambition to attract a global audience across multiple channels of 1 billion by 2025 - a tenfold increase - is a step change for the organisation whose annual Edinburgh show is hugely popular but is bound by the physical size of the Edinburgh Castle esplanade (8,800 seats per show). 
Tattoo Producer and Chief Executive, Brigadier David Allfrey, explains:
"The Tattoo is one of the greatest shows on earth, attracting audiences across the globe to Edinburgh and selling out year on year.  We are a small company but we have big ambitions and are focused on delivering a show that is bigger and better, more technically advanced and visually thrilling every year.  Edinburgh is an amazing stage and will always be our home, but for us to continue to thrive as an organisation, we need to look beyond the esplanade and the walls of the city.
 "Today's announcement sets out our ambition to continue that success, building a strategy for growth that will take us to new territories with new partners, but always with the intent to deliver not just great entertainment but employment, investment and commercial returns as well. Our aim is to continue to grow revenue streams overseas, so we can continue to successfully deliver commercial benefits and reinvest in Scotland, something we already do to the tune of £77 million a year and we have the ambition to do so much more.    
"Our previous tours have shown there is a huge appetite for The Royal Edinburgh Military Tattoo internationally, and we want to build our brand by giving more people the opportunity to enjoy the wonderfully rich and exhilarating Tattoo experience more often and in evolving forms. 
"In all this, the Tattoo is committed not just to its own business growth but is working to support other Scottish and British ventures in sustaining and growing existing friendships while developing new markets.  The Tattoo is proud to carry banners for Scotland, Great Britain and a host of international partners to benefit relations between nations, promote trade and investment, encourage tourism - inbound and outbound – and to showcase diverse cultures and heritage.
"We are in the unique position to be able to bring together military and civil societies, link Scotland with the international community and strengthen ties with current and future British allies. We're excited to reveal these plans today and invite our key partners, sponsors, supporters and audiences to join us on this journey to new destinations and long-term success."
Work to achieve this ambition is already underway with the Tattoo in routine dialogue with UK, Scottish and International Governments, local promoters and support networks. Most recently, the Tattoo's own house band, Pipers Trail, has been deployed to support cultural exchanges in Germany, the Czech Republic, Norway and China.
The Tattoo sells 220,000 tickets for its Edinburgh show each August, generating £77 million annually for the UK economy with a further £30 million value added in full-time employment. The 2016 performances in Australia and New Zealand generated over 240,000 tickets sales and the shows delivered a combined estimate of £50 million gross economic impacts to the cities of Melbourne and Wellington.