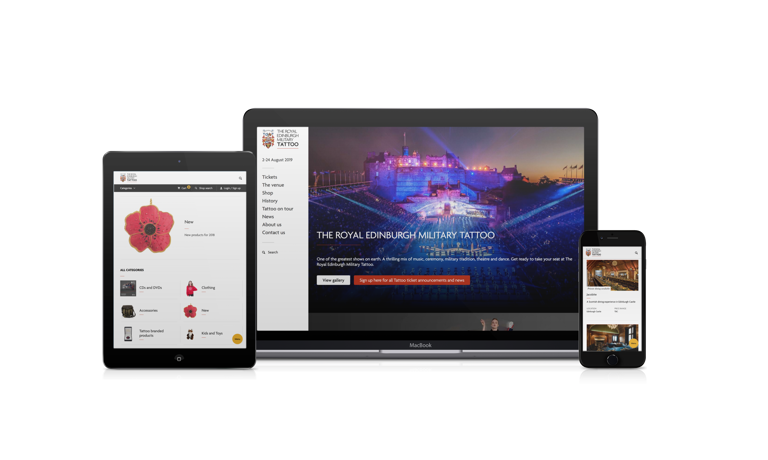 The Royal Edinburgh Military Tattoo supports global ambition with enhanced web presence
8 November 2018: The Royal Edinburgh Military Tattoo unveils a multi-year digital project by launching a refreshed and enhanced web presence designed to cater to its growing international appeal.
Designed with its entire audience in mind, the Tattoo has today revealed a refreshed website, with improved mobile browsing and enhanced retail options.  Other new features include updates and tour information on the Tattoo's performers (Pipers Trail, Tattoo Dance Company and Hjaltibonhoga - The Shetland Fiddlers) as they embark on a series of international events outwith the annual August production in Edinburgh.
The website enhancements come after the Tattoo revealed its intent to continue the company's global growth strategy earlier this year, reaching ever-larger audiences at home and abroad through an ambitious international expansion programme including doubling turn-over to £20million by 2025.
Developed by Edinburgh based agency Storm ID, Scotland's Digital Agency of the Year in 2017, this latest investment in the Tattoo's website is phase one of a multi-year digital project, supporting The Royal Edinburgh Military Tattoo's ambition to attract an audience of 1 billion across all platforms.
Visitors to the new site can also sign-up to a regular newsletter featuring richer online content, exclusive notifications regarding the international event programme and ticket launch news as it happens.
Following three tours to Australia and New Zealand in the last 15 years, the Tattoo now aims to significantly develop its operations to unleash its own potential by securing overseas tours in China, Australia and Canada from 2019 onwards. The refreshed website is a key step in supporting that ambition and catering to a growing international interest. At present, the Tattoo's Edinburgh audience includes customers from over 100 countries and approximately 50% of the Tattoo audience is from international markets.
Lynsey Fusco, Head of Marketing and Communications at The Royal Edinburgh Military Tattoo said: "Anyone who has been to the Tattoo knows that it is a thoroughly international event and the launch of our new website will allow for people from around the world to stay in tune with what the Tattoo has to offer throughout the year.
"As we continue to evolve and reach new audiences, we need to have the tools in place to communicate with them on their terms.  More and more visitors are accessing the site through mobile devices, so it's important that they can access our site on the go and we provide a better, streamlined user-friendly experience.
"As well as investing in a fresh new look, we've also invested in our technical infrastructure to ensure we are well-equipped for the ever-increasing volume of web traffic and ticket surges as global audiences continue to seek information about the Tattoo and want to experience it for themselves.
"This is just one of a series of new initiatives that will help us deliver on our global expansion as The Royal Edinburgh Military Tattoo continues to build its international reputation and delivering world-class events that exceed audience expectations around the world."
The Tattoo is performed to a live audience of 220,000 annually on the Esplanade of Edinburgh Castle with a further global TV audience of over 100 million.