Homecoming for "Old Boys" of The Scots College Sydney
50 years on from their last visit to The Royal Edinburgh Military Tattoo, members of The Scots College Sydney Old Boys return to the Edinburgh Castle Esplanade.
In 1973, The Scots College Sydney joined the ranks of our Massed Pipes and Drums. Whilst in Edinburgh, they visited The Army School of Bagpipe Music and Highland Drumming to present a specially made shield that featured the names of all participating pipers and drummers from The Scots College Sydney that year.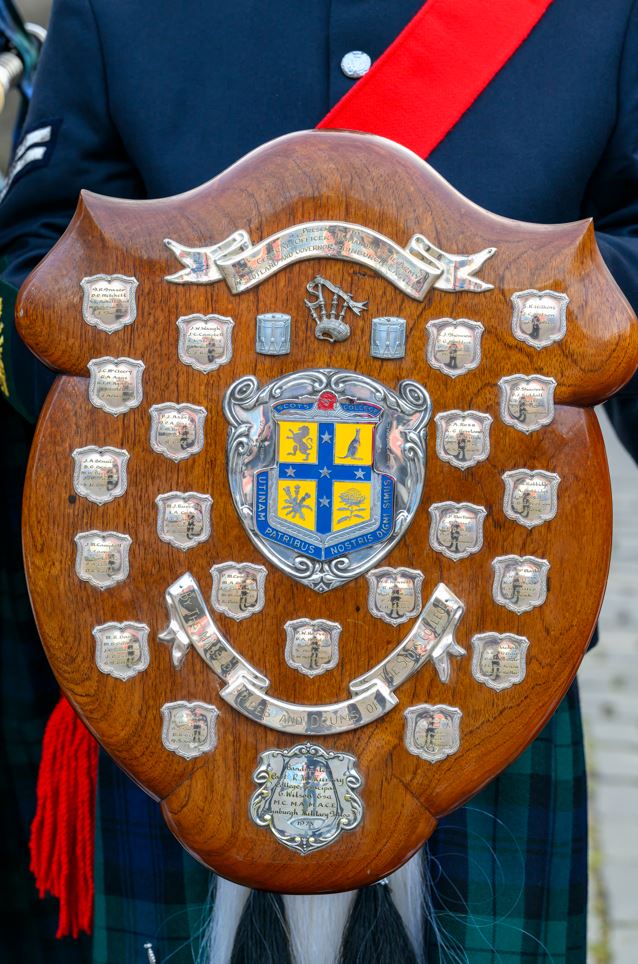 This month, Pipe Major Frank Fraser OAM has returned to the Esplanade 50 years on from his last visit. Holding the same Pipe Major position that he held in 1973, Fraser rejoins our Massed Pipes and Drums with The Scots College Sydney Old Boys Pipes and Drums. He is accompanied by fellow "Old Boys" drummer Ian Kellaway, and pipers Richard Cummins, James Bruce and Mark Campbell, all of whom performed in 1973.
Alongside their return to the Castle Esplanade, the five have been reunited with the shield that they presented over 50 years previously.
The history of The Scots College Sydney Pipes and Drums dates back to the school's founding in 1893. The school has always held a strong connection to Scottish culture, and Scottish music has been a staple at school events. However, it wasn't until the mid-20th century, that a formal pipe band was established. The Band began with just a handful of pipers and drummers, but quickly grew in size and popularity. In the years that followed, The Scots College Sydney Pipes and Drums has become an integral part of school life, performing at events such as assemblies, sports matches, and formal dinners.
Once leaving the College, Old Boys were forming small bands to mark various events and memorials, and in 1993, as part of the school's Centenary celebrations, The Scots College Old Boys Pipe Band was officially formed. To mark this occasion, Old Boy pipers and drummers from around Australia gathered in their hundreds to celebrate the day. In 1996, the Band performed their first Sydney Anzac Day street march, an occasion which they have supported ever since.  
We're delighted to welcome them to our Stories cast!
Tickets for the 2024 Show Stories can now be purchased here, on the phone on 0131 225 1188.