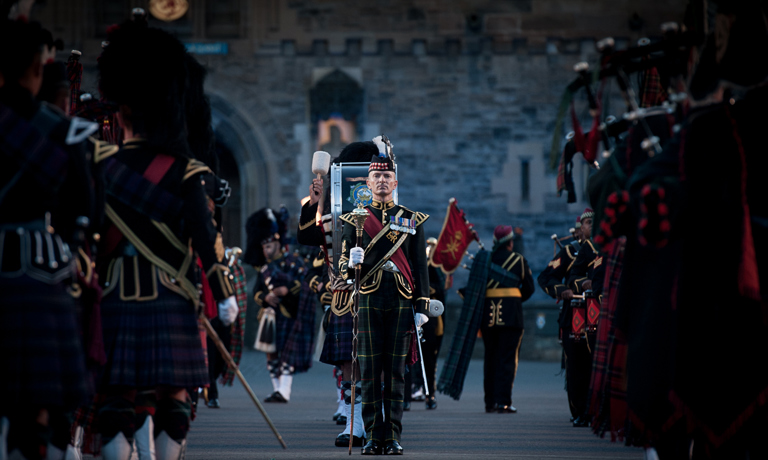 A Scottish tipple for any occasion
On Tuesday, we celebrated the life and works of Robert Burns. The 18th Century Poet is famous for penning many well known verses that are still loved today, including Auld Lang Syne, Tam O'Shanter and Ae Fond Kiss.
Every year, the anniversary of his birth is celebrated by Scots and fellow Burns fans around the world with traditions such as a "Burns Supper" of haggis, neeps and tatties, featuring a recital of the traditional "Address to a Haggis", and of course a dram or two of Scotch Whisky.
In the spirit of Scottish celebrations, former Tattoo Drum Major, Mick Hay has shared his recipe for Atholl Brose – a whisky and oat based cream liquor – for you to enjoy at home. Use it to toast Scotland's National Bard next year, or as a special Scottish treat during the year ahead.
Atholl Brose
According to legend the drink is named after the 1st Earl of Atholl, who suppressed a Highland rebellion in 1475 by spiking the rebel leader's well with Atholl Brose, leading to an inebriated enemy and the rebel leader's capture.
Ingredients
1x 750ml bottle of Scotch Whisky
½ Pint of Double Cream
450g of clear Scottish Honey
200g Scottish Ground Oatmeal
300ml Water (optional, use as required)
Step 1
Add Whisky, water and ground oatmeal to a container up to 1 week (minimum of 2 days) before you intend to drink. Cover container and leave in a cool place.

Step 2
On the night before you want to drink it, strain off your brose mixture with a sieve, colander (if you prefer more bits) or muslin into a bowl or jug. Make sure to squeeze all the liquid out.

Step 3
Stir in the cream and then honey. The most important part is to taste as you go when adding the honey, you may not need all of it. 

Step 4
Pour into bottles and put into the fridge ready for your Scottish celebrations.

Step 5
Before serving, shake the bottle gently as some of the ingredients will have settled. Then pour yourself a large glass and enjoy!

Don't forget to note the expiry date on the cream you use and drink your Atholl Brose before this date.