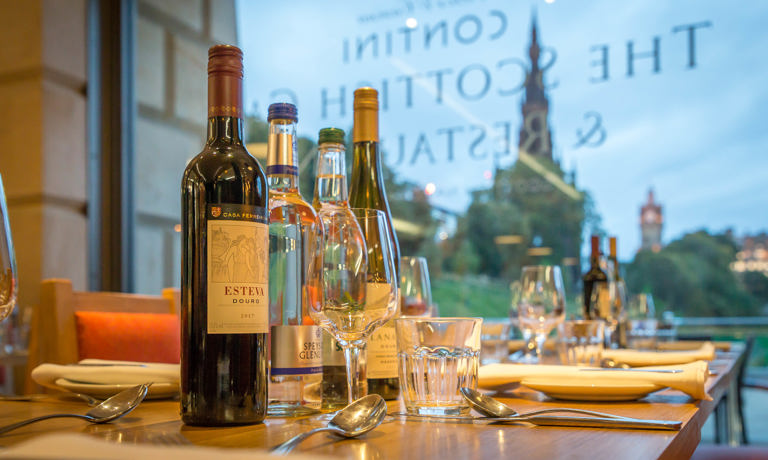 Hospitality packages
Pipers Package
Located at the Gardens entrance of The Scottish National Gallery
Dine within one of Edinburgh's most famous landmarks in the heart of the magnificent Princes Street Gardens
Times
Monday & Friday: 6:30pm for the 9:00pm performance
Friday 26th and Saturdays: 7:00pm for the 9:30pm performance
Key facts
A two-course light summer supper, followed by a mulled apple juice to take-away
A host to lead you on foot from The Scottish Cafe & Restaurant to the Tattoo arena via Ramsay Lane, bypassing the main Tattoo queue
What your package includes
Dine in one of Edinburgh's most famous landmarks in the heart of the magnificent Princes Street Gardens and experience the very best of Scottish hospitality. Following supper, your host will lead the way to Edinburgh Castle Esplanade, via Ramsay Lane and bypassing the main Tattoo queue, for the Tattoo performance.
Two-course light summer supper with a mulled apple juice to take away
A glass of sparkling wine on arrival, a large glass of specially selected wine with your meal and a dram of whisky to finish
A host to lead you on foot from The Scottish Cafe & Restaurant to the Tattoo arena via Ramsay Lane, bypassing the main queues
A prime location seat in the outdoor arena with exceptional views of the performance
An official Tattoo Show Programme
It is important to note that this route includes lots of stairs and Ramsay Lane is extremely steep and cobbled which may not suit those with mobility issues.
Whilst there is no dress code for this package, we ask that you respect your host and fellow guests and dress accordingly, i.e. avoiding short trousers and sports shoes. As you are sitting in the outdoor arena for the Tattoo performance, a warm top layer or coat is recommended.
Bookings for our hospitality experiences will be based on shared tables with other guests.
Buy Tickets