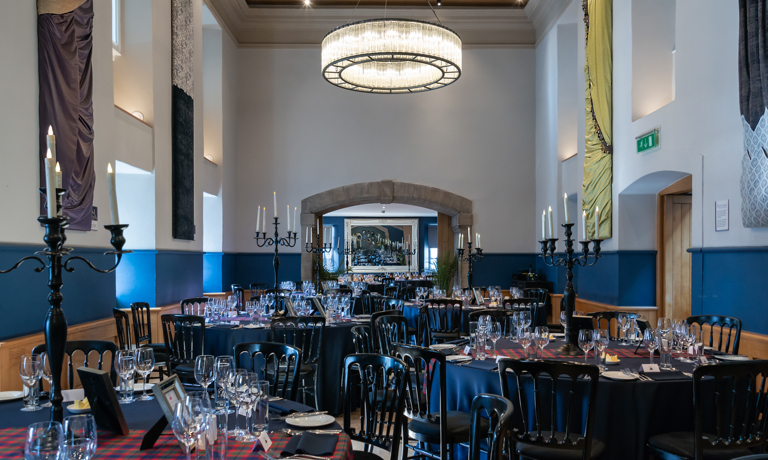 Hospitality packages
Jacobite Package
Edinburgh Castle
A Scottish dining experience in Edinburgh Castle
Times
Monday to Friday: 6:15pm for the 9:00pm performance
Friday 26th and Saturdays: 3:30pm for the 6:15pm performance
Key facts
A three-course Scottish dining experience followed by coffee or tea and tablet
A host to escort you from the Queen Anne Room to the Castle Esplanade
A brief recital by members of the international Tattoo cast
A prime location seat in the outdoor arena with exceptional views of the performance
With a Premier Seat £355.00-£375.00
What your package includes
Enjoy a delicious Scottish dining experience in Edinburgh Castle's contemporary Queen Anne Room in the heart of Edinburgh Castle. Following dinner, guests will be escorted, via the backstage area, where the performers are waiting to go on stage, to the Castle Esplanade.
The services of a Tattoo representative who will welcome you on the Castle Esplanade and escort you to the Queen Anne Room in Edinburgh Castle
A welcome drink on arrival at the Queen Anne Room
Three course Scottish dining experience followed by coffee or tea and tablet
Half a bottle of wine to accompany your meal and a dram of whisky served with your first course 
A Tattoo Piper, who will invite guests to join in the traditional "Toast to the Haggis"
A brief recital by members of the international Tattoo cast
A prime location seat in the outdoor arena with exceptional views of the performance
A host to escort you from the Queen Anne Room to the Castle Esplanade
An official Tattoo Show Programme
It is important to note that this package includes walking on cobbles and up steep inclines which may not be suitable for those with mobility issues.
Whilst there is no dress code for this package, we ask that you respect your host and fellow guests and dress accordingly, i.e. avoiding short trousers and sports shoes. As you are sitting in the outdoor arena for the Tattoo performance, a warm top layer or coat is recommended.
Bookings for our hospitality experiences will be based on shared tables with other guests.
Buy Tickets