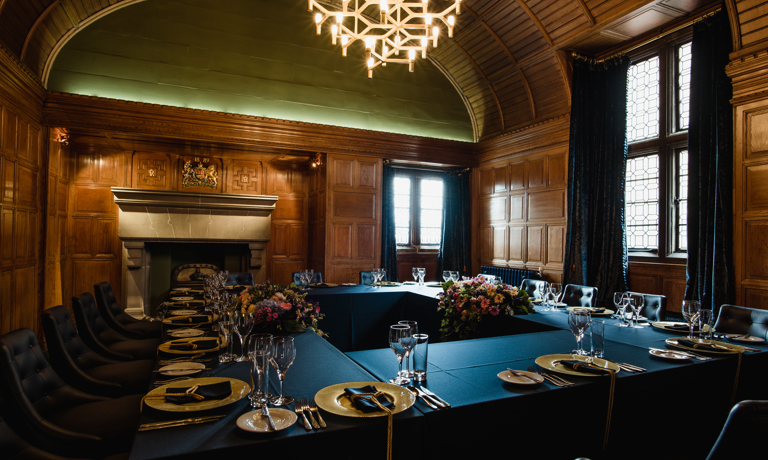 Hospitality packages
Gatehouse Package
Edinburgh Castle
Three-course meal in the Gatehouse of Edinburgh Castle
Times
Monday to Friday: 6:30pm for the 9:00pm performance
Friday 26th and Saturdays: 3:45pm for the 6:15pm performance
Key facts
A Champagne and canapés reception on the battlements of Edinburgh Castle (weather permitting)
A three-course set dinner with wine in the intimate 19th Century Castle Gatehouse followed by coffee or tea and tablet
A VIP seat in The Royal Gallery
What your package includes
Dine in Edinburgh Castle's intimate 19th Century Castle Gatehouse where you will be treated to a fine dining experience with wine followed by coffee or tea and tablet.
This truly is a magnificent location for an unforgettable evening. You and your guests will have private use of this building until it is time to make your way through the great oak doors of the Castle drawbridge and walk down the Esplanade to take your VIP seats in The Royal Gallery where you will be joined by The Salute Taker, Tattoo guests and dignitaries.
The services of a Tattoo representative who will welcome you on the Castle Esplanade and escort you to the Castle Gatehouse
A Champagne and

canapés

reception on the battlements of Edinburgh Castle (weather permitting)
A three-course set dinner with wine followed by coffee or tea and tablet
A host to escort you from the Gatehouse to The Royal Gallery
A VIP seat in The Royal Gallery
A Tattoo Gift and an official Tattoo Show Programme
An invitation to the post-show reception held in The Royal Gallery
It is important to note that the Castle Gatehouse is accessed via a narrow spiral staircase and may not be suitable for those with mobility issues.
The Royal Gallery has a smart dress code which means a business suit for gentlemen and a dress or suit for ladies, uniform or national dress. Jeans, short trousers and sports shoes are not permitted. Whilst The Royal Gallery is undercover, it is open to the front, so we ask that you dress warmly to protect from the evening chill. Please note that The Royal Gallery dress code will not apply to other guests dining with you who will be sitting in the outdoor arena for the Tattoo performance.
This is a mixed dining experience and guests will be seated at shared tables for dinner.
Buy Tickets