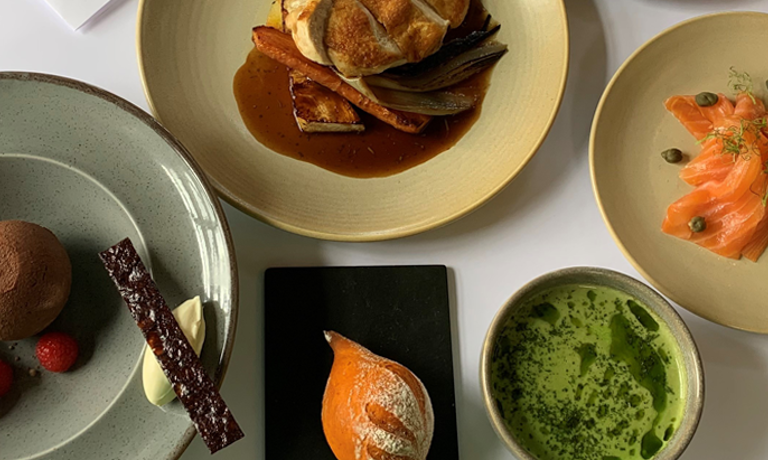 Hospitality packages
Cannonball House Package
Cannonball Restaurant & Bar, Royal Mile
Six-course tasting menu in the historic Cannonball House
Times
Monday to Friday: 6:30pm for the 9:00pm performance
Friday 26th and Saturdays: 3:45pm for the 6:15pm performance
Friday 26th and Saturdays: 7:00pm for the 9:30pm performance
Key facts
A six-course tasting menu made from the finest Scottish ingredients
Four glasses of specially selected wines
A prime location seat in the outdoor arena
A brief recital by members of the international Tattoo cast
With a Section 10 seat £245.00 - £255.00
With a Section 12 seat £220.00 - £225.00
What your package includes
Welcome to Cannonball Restaurant & Bar. A stunning three storey historic building with all the character you would expect from an Edinburgh Old Town building that dates back to the 17th Century.  Cannonball House captures all the mystery and history of the Royal Mile. Enjoy a delicious six-course tasting menu showcasing Scotland's artisan suppliers and growers in this family run restaurant, whose families have served food in Scotland for almost a century. Cannonball House is run by renowned Italian-Scots restaurateurs Victor and Carina Contini.  The couple, together with their award winning team, will ensure you have a night to remember even before you have been to the Tattoo performance.
A six-course tasting meal with matched wine for your four courses and a dram of whisky with dessert. Followed by tea or coffee and shortbread 
A brief recital by members of the international Tattoo cast
A host to escort you from Cannonball House to the Castle Esplanade
A prime location seat in the outdoor arena with exceptional views of the performance
An official Tattoo Show Programme
Whilst there is no dress code for this package, we ask that you respect your host and fellow guests and dress accordingly, i.e. avoiding short trousers and sports shoes. As you are sitting in the outdoor arena for the Tattoo performance, a warm top layer or coat is recommended.
Bookings for our hospitality experiences will be based on shared tables with other guests.
Buy Tickets