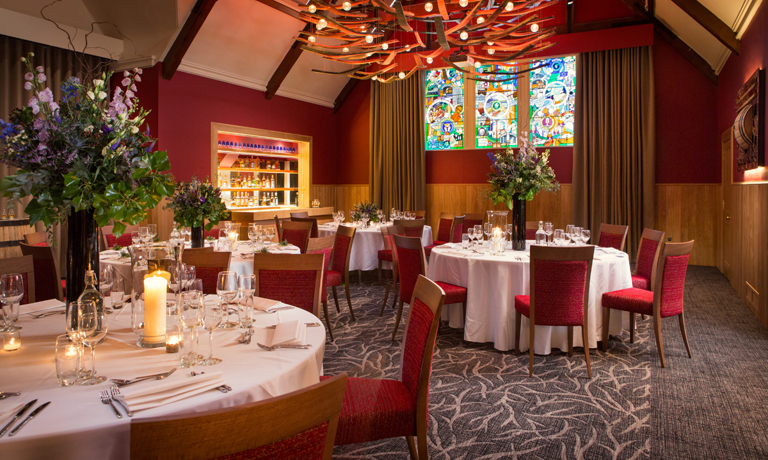 Exclusive packages
Bruce
The Scotch Whisky Experience, Royal Mile
Three course 'Taste of Scotland' meal with specially selected Scotch Whiskies
Times
Monday to Friday: 6:30pm for the 9:00pm performance
Saturday: 4:45pm for the 7:15pm performance
Saturday: 8:00pm for the 10:30pm performance
Subject to the appropriate weather conditions, all performances of the Tattoo will conclude with a fireworks display. 10:30pm performance concludes with extended fireworks display
Key facts
A three-course 'Taste of Scotland' meal, followed by coffee or tea and Scottish fudge
The perfect opportunity to sample the finest Scottish produce
Sampling of three specially selected Scotch whiskies, each chosen to complement your meal and introduced to you by a member of the Senior Tasting Team
A recital by members of the Tattoo cast
A prime location Premier Seat with exceptional views of the performance
What your package includes
Join a table in the Castlehill Suite within The Scotch Whisky Experience. A beautiful location, just moments away from the Tattoo arena. You will enjoy a sumptuous 'Taste of Scotland' meal with wine and three specially selected Scotch Whiskies. Slàinte. 
Three-course menu followed by coffee or tea and Scottish fudge
Sampling of three specially selected Scotch Whiskies, each chosen to complement your meal and introduced by a member of the Senior Tasting Team
Half a bottle of wine with your meal
A brief recital by members of the Tattoo cast
A private viewing of the World's Largest Collection of Scotch Whisky
A host to escort you from the Scotch Whisky Experience to the Castle Esplanade
A prime location Premier Seat with padded seat/backrest in Section 8 of the outdoor arena with exceptional views of the performance
An official Tattoo Show Programme
This is a mixed dining experience and you will be seated at shared tables for dinner.
Sign up for updates