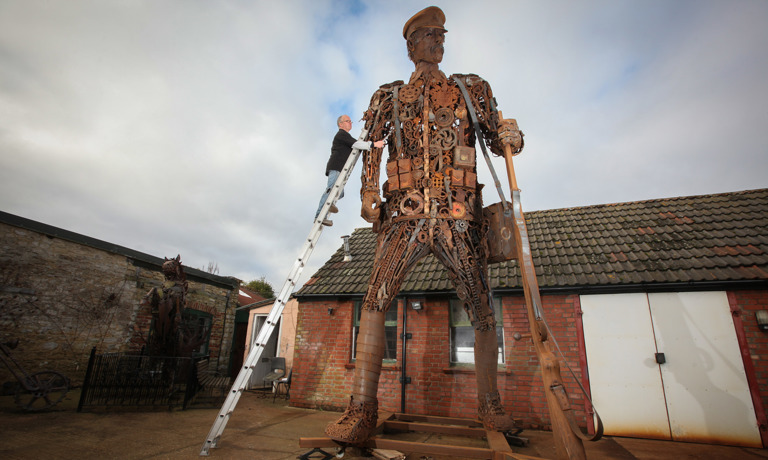 'The Hauntings', a striking scrap metal sculpture of a war-weary soldier, was on display at five-star, award-winning visitor attraction The Black Watch Castle and Museum in Perth in 2023
Standing at 6 meters high, the ghostly sculpture was commissioned for the World War One centenary in 2014 by a couple based in Somerset, Jo Oliver and Paul Richards, to commemorate those who served in the war.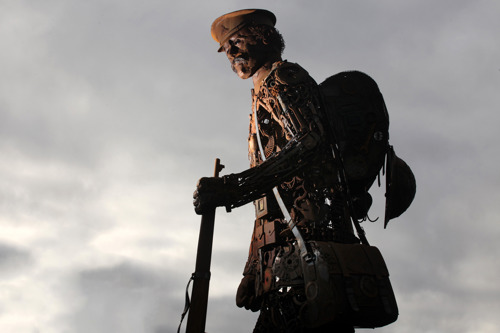 The inspiration for the sculpture came from the tales of a ghostly soldier seen wandering around the Somerset hills close to where Jo grew up, looking for his way home.
Created by metal sculpture specialists, Dorset Forge and Fabrication, a combination of the talents of blacksmith Chris Hannam and artist Martin Galbavy, the sculpture is made from over 1,000 pieces of locally sourced scrap metal including horseshoes, brake discs, and car jacks, and its intricate design allows the light to filter through his body giving a ghostly aura.  
Jo Oliver, owner of the sculpture said: "The loan of this unique sculpture of discarded metal, The Hauntings, to The Black Watch Castle and Museum gives Paul and I untold pleasure. Many years have spanned between my first childhood encounter with his ghostly presence on a Somerset hill until this point in time. He is now fulfilling his destiny as I saw it back then, 'to make a difference', to us all. He is you, me, us, the common man, as we each journey on life's challenging battlefields. To agree to him being within The Black Watch Castle and Museum is an honour and I know that his presence will be inspirational to all who gaze upon him." 
Anne Kinnes, CEO of The Black Watch Castle and Museum said: "We are extremely grateful to Jo and Paul for loaning The Hauntings to The Black Watch Castle and Museum, which will allow locals and visitors to stand beside this incredible and emotive sculpture and immerse themselves in all he represents, providing the space and time to reflect on all the physical and mental sacrifices that were made then, so we can live the lives we do today." 
For further information on The Hauntings and his visit to The Black Watch Castle and Museum, visit https://theblackwatch.co.uk/