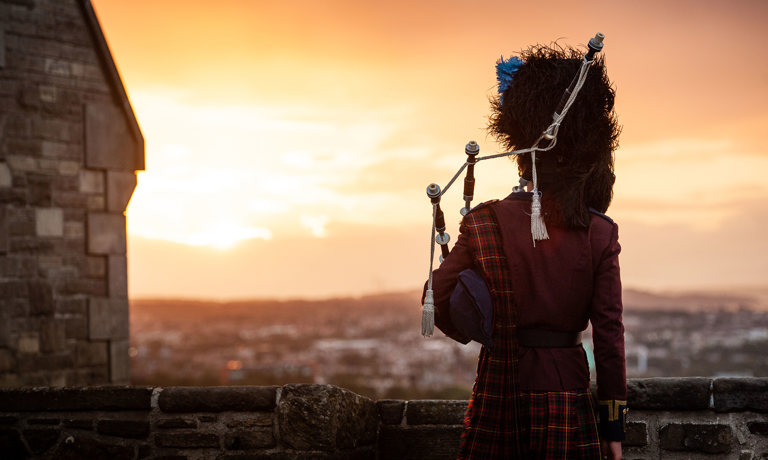 About us
Sustainability
The Royal Edinburgh Military Tattoo takes responsibility for its impact on the environment. In addition to our environmental strategy, we aim to purchase goods and services ethically and manage our business in a way which least impacts on the environment, whilst promoting the best interests of our staff and customers.
Buy tickets
Introduction
Sustainability is the capacity to endure, the potential for long-term efficiency and effectiveness, it forms a key component of our Vision and represents the continued success of our Charity and Operating companies. It has environmental, economic, and social dimensions and the successful delivery of our Vision relies on us understanding how these 3 dimensions work as part of core business practice. Sustainability is influenced by political atmosphere and shifts, therefore it is an additional dimension, albeit out with the scope of this statement.
A. Environmental sustainability
To be sustainable, it is vital that we acknowledge that humans are dependent on the natural environment for their survival and wellbeing. It follows that without a healthy and strong natural environment, it is impossible to have a healthy society or economy. Issues such as climate change, resource depletion and waste disposal are strongly affected by product and services design, and therefore every business should make this an integral part of their plan, as well as areas such as:
(1) To assess the environmental impact of current and likely future operations
(2) To continuously seek to improve environmental performance
(3) To reduce the effects from pollution, emissions and waste
(4) To encourage more sustainable forms of transport
(5) To sustainably manage the use of all resources, energy, water and procurement
(6) To meet the requirements of environmental legislation and approved codes of
B. Economic sustainability
Financial sustainability is essential for any good business. Financial wealth is an essential element of quality of life. The goal of financial profit does not have conflict with the goals of social and environmental sustainability. Carefully designed goods and services should form part of a business' financial model and strategy for long-term financial viability. This can be achieved without damage to society or the environment and can potentially even generate profit in these areas. A financially sustainable system should have the following characteristics:
(2) Does not rely on finite resources
(3) Maximises profitability by minimising consumption of resources
(4) Does not threaten the financial wellbeing of its customers
(5) Does not have any significant liabilities
C. Social sustainability
Creating and maintaining a quality of life for people. By working towards financial and environmental sustainability, we are already working towards social sustainability. The social element of sustainability has a number of its own distinct criteria. These involve protecting the mental and physical health of all stakeholders, encouraging community, treating all stakeholders fairly, and providing essential services. Therefore, the Tattoo, in working to be socially sustainable must:
(1) Protect the mental well-being of all stakeholders
(2) Protect the physical health of all stakeholders
(3) Encourage a sense of community
(4) Treat all stakeholders fairly
(5) Provide all stakeholders with essential services
2. Putting Theory into Practice.
Having set out the conceptual basis for why we should actively pursue a culture of sustainability, we now need to focus our energies to ensure we keep the sustainability agenda sensible in proportion.
3. Objectives.
In line with our Vision, we aim to develop The Royal Military Tattoo (Charities) Limited and The Royal Military Tattoo Limited as long-term, sustainable businesses that deliver value across a range of stakeholders at the local/municipal, regional, national and international levels. These stakeholders include our employees (core, seasonal and the Cast), customers, suppliers, contractors, sponsors, business partners; and the broader community. By managing our business responsibly, we support the development of a financially stable organisation that will continue to deliver value in line with our business and charitable objects. This Sustainability Statement outlines our framework for responsible business management and will form an integral part of our evolving 'Strategy for Growth'.
4. Scope and Governance.
This policy is owned by the Chief Executive on behalf of the Board of Directors and applies to all Royal Edinburgh Military Tattoo employees and the relevant stakeholder groups. We shall embed this policy in our 'Strategy for Growth' (which sets our medium and longer term goals) and our annual Business Plan (which sets our short term goals). All staff are individually accountable for the implementation of the policy, with the Property Manager acting as the lead. The policy will be reviewed in October each year (as part of our 'Lessons Learned' process) and shared as appropriate with our stakeholders.
5. Areas of Focus.
To operate sustainably, we must focus our activities in areas of the business that deliver maximum impact. These points of focus will reflect opportunities to make a positive difference and manage risk. By managing these areas effectively, we aspire to deliver the best possible benefits for our business and the wider community. We will use our 'Strategy for Growth' and routine feedback from internal and external stakeholders to define and evolve these areas of focus.
6. Responsible Business Practices and Customer Service.
Our statement of business principles and code of ethical conduct is to be incorporated in our 'Capstone Document' and will be expanded in the Employee Handbook. These documents together will codify how we treat ourselves and others. We ensure that these practices upheld across our business through daily practice and staff training programmes.
7. Supporting our Staff.
We value our staff, whether they are full-time, part-time or seasonal. We are committed to providing them with a workplace which is safe and secure. We aim to create a culture where every employee is treated fairly, with respect and where there individual contribution is given due opportunity and credence. We recognise the value that a diverse workforce can bring and we do not accept any form of discrimination. We believe in creating an inspiring workplace, committing to developing our people, giving them the right skills to help us deliver against our business objectives.
8. Managing our Supply Chain.
We look to develop mutually beneficial relationships with our suppliers and contractors. We will work closely with both to meet our business and sustainability standards including the ethical procurement of goods. All senior staff are responsible for the management of relationships with our suppliers and contractors to ensure that good [sustainability] practice is understood, influenced and shared in our supply chain.
9. Environmental Management.
We are committed to identifying, managing and minimising the environmental impact of our business operations. We have an environmental management system in place to help us ensure that we comply with all relevant environmental legislation. The risk management process will consider environmental risk on a site-by-site basis and will be overseen by the Property Manager. We should be prepared to communicate our performance in this area in a transparent way.
10. Investing in our Local people and Communities.
We engage with local, regional, national and international communities with whom we work and from where our customers are drawn. Our engagement makes a positive social and economic impact. We also strive, within practical bounds, to make a positive social contribution through the goods and services we provide to our customers.
ISO
ISO 20121 is a management system standard. The Royal Edinburgh Military Tattoo was awarded ISO 20121 accreditation in 2017.
ISO 20121 is based on the earlier British Standard called 'BS 8901 Specification for a Sustainability Management System for Events' which was first developed in 2007. Due to the high level interest in BS 8901, it was decided to create an international version of the standard to coincide with the London 2012 Olympics.
In simple terms, ISO 20121 describes the building blocks of a management system that will help any event related organisation to:
Continue to be financially successful
Become more socially responsible
Reduce its environmental footprint
ISO 20121 applies to all types and sizes of organisation involved in the events industry – from lighting and sound engineers, stage builders and venues to independent event organisers and corporate and public sector event teams.